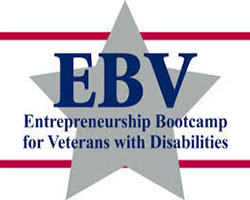 Florida State University is set to welcome 22 military veterans from across the country — including seven from Florida — to its 2013 Entrepreneurship Bootcamp for Veterans with Disabilities (EBV) program to be held June 4-11.
The veterans, all of whom have experienced disabilities while serving their country, will spend an intense week in classes, workshops and breakout sessions and hear from industry professionals on best practices that will help them start a business or take their current business to the next level.
Among the week's events:
A welcome dinner will be held at 5:30 p.m. Tuesday, June 4, at the Hotel Duval, 414 N. Monroe St., Tallahassee.
Several participants will arrive at the Tallahassee Regional Airport at 1:30 p.m. Tuesday, and media are invited to meet them there and at the Hotel Duval.
Classes will be held from 8:30 a.m. to 5 p.m. June 5-10 at the Turnbull Conference Center.
Venture pitches will be held from noon to 5 p.m. Tuesday, June 11. The pitches are closed to the media. However, participants will be available for interviews immediately following their individual pitches.
The closing ceremony begins at 6 p.m. Tuesday, June 11, at Futch Ballroom in the University Center Club.
Now in its sixth year at Florida State, the boot camp program allows veterans to engage the economic engine of their communities, states and the nation. The program offers cutting-edge, experiential training in entrepreneurship and small-business management. The generosity of sponsors and donors, many of them Florida State alumni, makes it possible for the program to be offered free to participants.
In addition to the Floridians who will take part in this year's boot camp, participants hail from Colorado, Georgia, Louisiana, Maryland, Minnesota, North Carolina, Ohio, South Carolina and Virginia. They represent all branches of the U.S. military.
This year's FSU EVB program began three weeks ago with an online course that the participating veterans were required to complete. Tuesday marks the beginning of the residency portion of the program. At the end of the weeklong residency, the program will provide 12 months of ongoing support for the veterans after they return home.