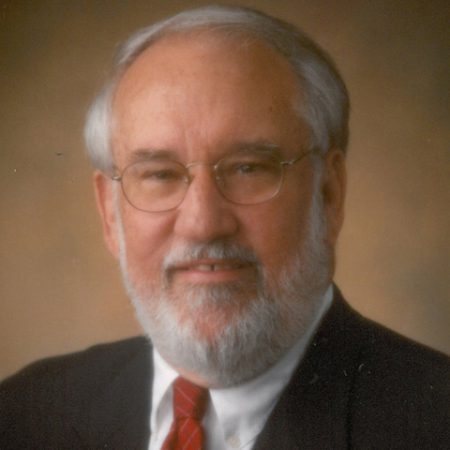 Florida State University College of Law alumnus John W. Frost II, a 1969 graduate, has committed an additional $1 million gift to the law school to supplement two existing endowments. Sixty percent of the gift will supplement the John W. Frost II Moot Court Endowment and forty percent will supplement the John W. and Ashley E. Frost Endowed Professorship.
This is the fourth major gift from Frost to the law school. In 1994, he gave the law school $100,000 to establish the John W. and Ashley E. Frost Endowed Professorship. In 2000, Frost made another $100,000 gift to establish the John W. Frost II Moot Court Endowment. In 2004, Frost supplemented the professorship, which currently is held by constitutional law expert and Moot Court faculty advisor Nat Stern, with a gift of $100,000. He also has made other significant gifts to support the law school's Annual Fund Scholarships and the William and Catherine VanDercreek Professorship.
In recognition of Frost's most recent gift, the former First District Court of Appeal courtroom in the law school's Advocacy Center will be named the John W. Frost II Courtroom.
"Florida State University law school gave me the opportunity to be part of a profession that allows dedicated lawyers to make a difference in people's lives," said Frost. "Professors like Nat Stern and Chuck Ehrhardt make such a positive difference in students' lives, being able to help fund efforts to recruit and retain such professors matters to me. As a member of the law school's first Moot Court Team, I learned what a constructive impact such an experience can have on a future lawyer, so assisting that program was a 'no brainer' for me."
"We are all extremely grateful to John and proud of all he stands for," said Dean Don Weidner. "As a member of our charter class, John was our first president of The Florida Bar, our first alumnus to be a major donor, and now is the first to sponsor a courtroom in our new Advocacy Center."
Frost is the founding partner of Frost Van den Boom & Smith P.A., a statewide civil trial firm concentrating on personal injury, medical malpractice, commercial litigation and family law issues on both state and federal levels. The firm has an office in Bartow, Fla., and soon will open an office in Gainesville, Fla. Frost's daughter, Ashley Frost Bedell, graduated from the Florida State law school in 1994.