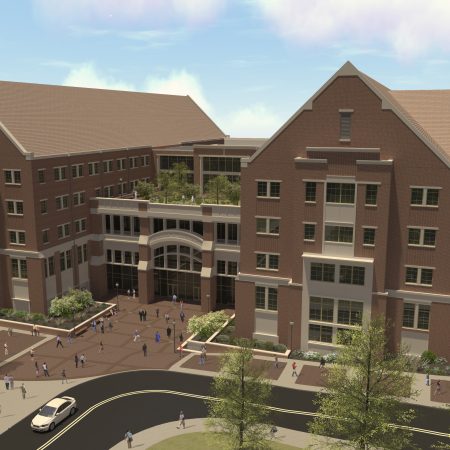 A $1 million gift to the Florida State University College of Business from Dollar Tree Inc. President and CEO Bob Sasser and his wife, Pam, will kick-start the college's $65 million campaign for a new building.
The Sassers are challenging fellow alumni to demonstrate confidence in their alma mater by supporting the college's efforts to grow, prosper, and strengthen the educational experience for generations of Florida State business students to come. The university has committed to matching private donations raised for the new facility.
Sasser, a 1973 marketing graduate, presented the gift on Friday to Florida State University President Eric J. Barron and College of Business Dean Caryn Beck-Dudley during a visit to his alma mater.
"This is a remarkable show of support for the College of Business and recognition of the college's excellent reputation and success of its graduates," Barron said. "We are grateful to the Sassers for stepping forward with their generous gift and for challenging other alumni to follow suit and be part of the school's legacy."
The Sassers' gift will allow the university to move forward with plans to relocate from the Rovetta Business Building into a new, state-of-the art business facility that will provide a 67 percent increase in space and meet the changing demands of 21st-century business education. The Rovetta Business Building originally was constructed in the 1950s, with an addition completed in the 1980s. The Florida State College of Business is one of the nation's youngest business schools, yet its reputation for excellence has helped it to become one of the 10 largest.
"Pam and I are pleased to be in a position to give back to the College of Business, and we are especially happy we can be part of the school's efforts to give students a superb education," said Sasser, who in 2009 was inducted into the college's Hall of Fame. "The college has produced global business leaders, and we're hopeful that our gift will inspire others to give and be part of this great legacy of educating the best of the best."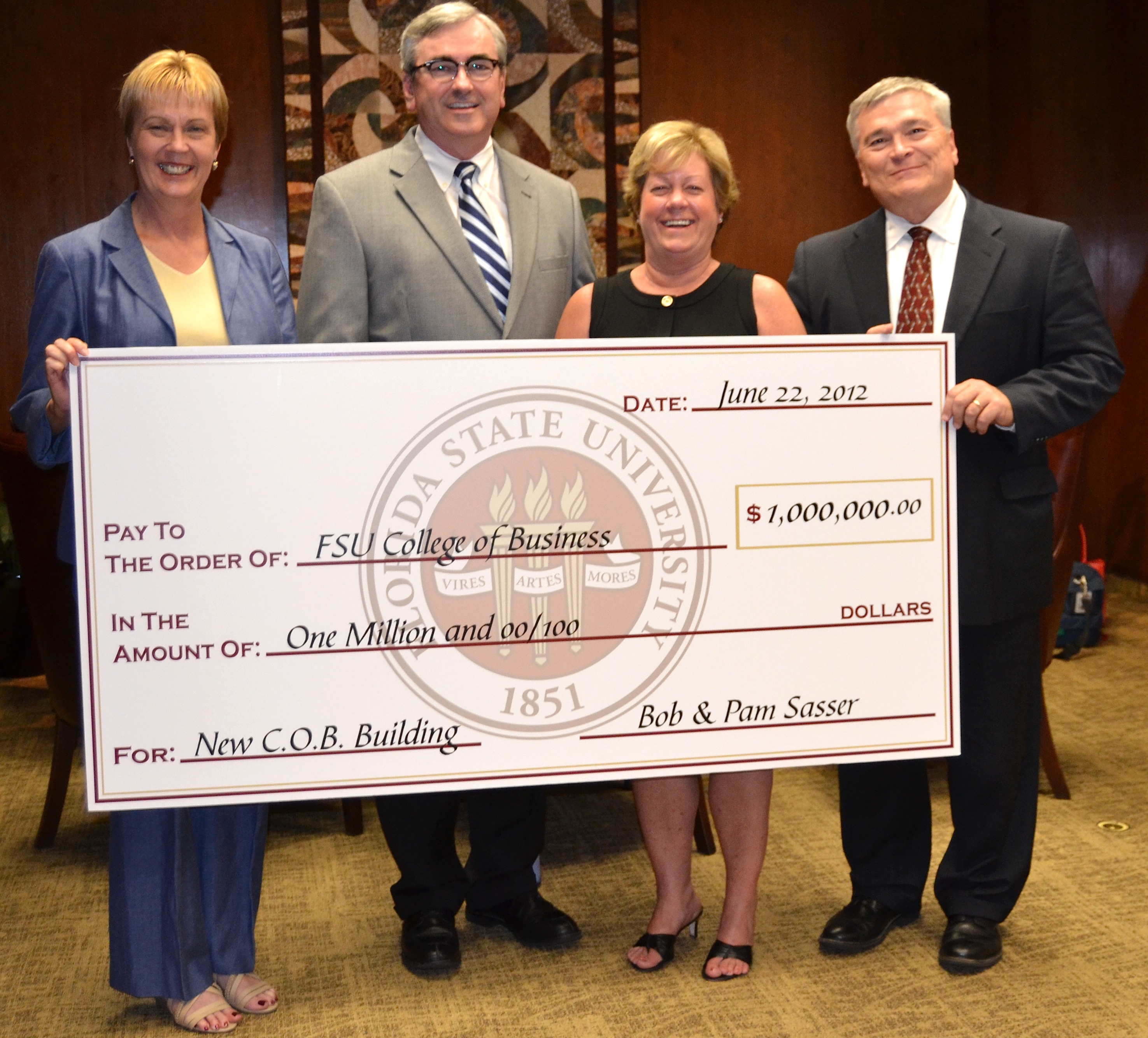 Tentatively called Legacy Hall, the new five-story business building will provide the instructional, technological and collaborative spaces in which to educate the people who will influence tomorrow's business world. It will house the student business incubator and will open avenues for collaborative research among Florida State's faculty, enabling the college to meet the training and continuing education needs of alumni and business partners.
"The Sassers' gift is transformative for us," Beck-Dudley said. "Architecture defines who we are and who we want to be. We are a great business school currently housed in a modest facility. Legacy Hall will allow us to become an internationally preeminent business school prospering in a world-class facility. A magnificent building will define our future not only for our students, faculty and alumni but also for our friends and the business community at large."
This recent gift is not the first time the Sassers have stepped forward to support the college. In June 2011, the Sassers established the Bob and Pam Sasser Fellowship in Marketing Excellence to benefit marketing graduate students.
Bob Sasser joined the Chesapeake, Va.-based Dollar Tree Stores in 1999 as chief operating officer. He has been president since 2001 and chief executive officer since 2004. Under his leadership, Dollar Tree has grown from a small regional company located predominantly in the mid-Atlantic states to an international company with stores across the 48 contiguous states and four Canadian provinces.
In 2008, Dollar Tree entered the Fortune 500 as one of the largest companies in America and was No. 1 in total returns to shareholders. As of 2012, Dollar Tree operates 4,451 stores in 48 states and five Canadian provinces, with a total of 38.6 million square feet of retail selling space. According to Forbes.com, Sasser was cited as one of the "Best Bosses for the Buck."
While at Florida State, Sasser was a member of Theta Chi social fraternity. He is a lifetime member of Florida State's Alumni Association and a Golden Chief Booster. He also serves on The Fresh Market Inc. board of directors.
For more information, contact Beck-Dudley at (850) 694-1356 or cbeckdudley@cob.fsu.edu.