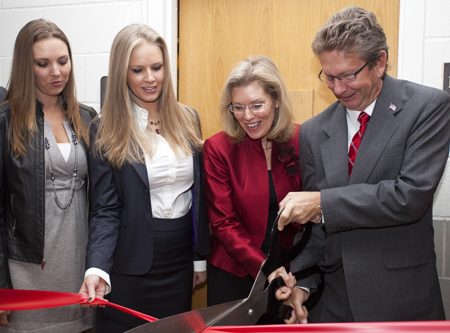 Thanks to a gift from two alumni of the Florida State University College of Business, students and faculty in the college's Professional Sales Program now have access to a state-of the-art behavioral research and training facility. Among other innovations, the new facility will help them to acquire the latest skills relating to the use of mobile technology for a wide array of business applications.
The Marvin A. "Mitch" Mitchell Sr. Behavioral Laboratory was established with a $50,000 gift from businessman Andy Mitchell and his wife, Kathy Ireland Mitchell, both 1974 graduates of the College of Business. Their gift has allowed the college to acquire the cutting-edge technology housed within the laboratory, enables faculty and students to conduct important research relating to consumer behaviors, and introduces the next generation of business professionals to the use of the latest mobile technology as a sales tool.
College of Business Dean Caryn Beck-Dudley expressed appreciation for the gift, which she said will enhance the education of students within the program.
"The Mitchell family's generosity is overwhelming," she said. "We are pleased to be able to honor the memory of a true hero, Marvin A. Mitchell, while giving our students the very best education possible. This gift ensures that they are prepared as leaders in their fields."
Beck-Dudley joined the Mitchells in officially launching the Marvin A. "Mitch" Mitchell Sr. Behavioral Laboratory at a ribbon-cutting ceremony held in FSU's Rovetta Building on Nov. 18.
With the new lab, the Professional Sales Program is now positioned as a leader in business-to-business professional sales training, said Associate in Marketing Pat Pallentino, director of the program.
The new lab includes 30 Apple iPad2 devices, all of which are synchronized to a single Apple iTunes account through the use of a PowerSync system. The room has been fitted with a 70-inch TV, computer, HD webcam and an Apple TV. The technology allows video conferencing, virtual role playing and recording of guest lecturers. In addition, a Tegrity lecture capture system has been integrated into the lab.
Andy Mitchell, president and CEO of The Fair Winds Group, a management consulting services firm headquartered in Fort Lauderdale, and Kathy Mitchell made the gift in honor of Andy's father, Marvin A. "Mitch" Mitchell Sr.
"Mitch was a disabled U.S. Army veteran who served in World War II and achieved a national sales position with Beneficial Finance Corporation," said Andy Mitchell of his father. "It is only fitting to have this new behavioral lab named in his honor."
The Mitchells' daughter Kristen earned her bachelor's degree in marketing and hospitality management from the FSU College of Business in 2007. Daughter Kate Campbell will receive her doctorate in marriage and family counseling from Nova Southeastern University in December. Her husband, Brent Campbell, graduated with a degree in finance from Florida State's College of Business in 2006.
For more information on the Marvin A. "Mitch" Mitchell Sr. Behavioral Laboratory, contact communications/media relations manager Barbara Ash of the FSU College of Business at (850) 728-7014 or bash@cob.fsu.edu, or Professional Sales Program director Pat Pallentino at ppallentino@cob.fsu.edu.