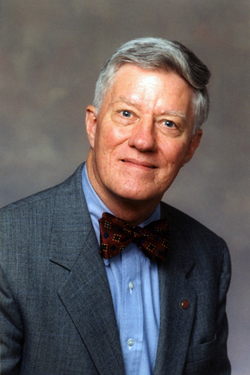 Florida State University President Emeritus Talbot "Sandy" D'Alemberte will present the fourth annual Joe Cresse Ethics in Government Distinguished Lecture at the FSU College of Law on Nov. 4. He will discuss "Florida's Administrative Procedures Act: The Necessity for Open Communication Between Citizens and Their Government in the Sunshine State."
D'Alemberte, currently a professor in the College of Law, served as president of Florida State from 1994 to 2003. From 1984 to 1989, he was dean of the College of Law.
Earlier in his career, he represented Dade County in the Florida House of Representatives from 1966 to 1972. During that time, he chaired several committees, including the House Judiciary Committee, which passed a major judicial-reform constitutional amendment in 1972.
After leaving the Legislature, D'Alemberte chaired the Florida Commission on Ethics in 1974 and 1975, as well as the Florida Constitution Revision Commission in 1977 and 1978. He has long been active in the organized bar, serving as president of the American Bar Association (1991-1992), president of the American Judicature Society (1982-1984) and chair of the ABA Section of Legal Education and Admission to the Bar (1982-1983). D'Alemberte has received numerous honors, awards and commendations.
D'Alemberte's talk, sponsored by the College of Social Sciences and Public Policy's Reubin O'D. Askew School of Public Administration and Policy and the Joe Cresse Ethics in Government Distinguished Lecture Series, is free and open to the public. It will be held:
FRIDAY, NOV. 4
3 – 4:15 P.M.
FSU COLLEGE OF LAW ROTUNDA
425 W. JEFFERSON ST.
TALLAHASSEE, FLA.
A reception will be held immediately following the lecture. Public parking for the event is available across the street at the Tallahassee-Leon County Civic Center.
The Joe Cresse Ethics in Government Distinguished Lecture Series pays homage to the high standards that its namesake set for public service. Cresse, a former state budget director and Florida Public Service Commission official, served in state government for 45 years. In the early 1970s, he earned the praise of then-Gov. Reubin Askew, who said, "Joe Cresse may well be the most able career service employee that state government has produced in modern times. He is a walking computer, totally honest and performed outstanding service."
For more information on D'Alemberte's lecture, contact Joan Kallestad of the FSU College of Social Sciences and Public Policy at (850) 645-4844 or jkallestad@fsu.edu.