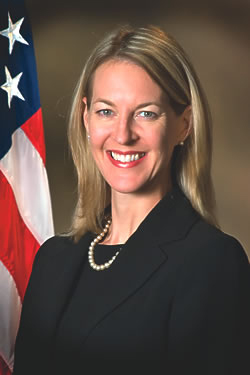 Pamela C. Marsh, U.S. Attorney for the Northern District of Florida, will discuss "Strengthening Ties with the Muslim, Sikh and Arab-American Communities in North Florida" in a free, public lecture at The Florida State University on Thursday, April 7. Marsh will address Attorney General Eric Holder's charge to all U.S. Attorneys to strengthen outreach to these communities across the country by building relationships of trust and confidence.
Marsh, who was nominated for the post by President Obama and confirmed by the U.S. Senate in June 2010, is the first woman to serve the Northern District. The district includes criminal, civil and appellate divisions in Tallahassee, Gainesville, Panama City and Pensacola. U.S. Attorneys are the chief federal law enforcement officials in their districts.
Before her appointment to the U.S. Attorney's Office, Marsh was a member of the Akerman Senterfit law firm, where she had been an associate from 1997 to 1999. From 1999 to 2006, she served as an Assistant U.S Attorney in the Middle District of Florida. A Tallahassee native, Marsh graduated from Georgetown University in 1991 and from Georgetown University Law Center in 1995. After law school, she served as a law clerk to Judge Jane R. Roth for the U.S. Court of Appeals for the Third Circuit.
Marsh's talk will be followed by brief remarks from Parvez Ahmed, an associate professor of finance at the University of North Florida, member of Jacksonville's Human Rights Commission and a frequent commentator on the Muslim-American experience; Adam Gaiser, assistant professor of religion at FSU, an expert on Islamic sectarianism and faculty adviser to FSU's Muslim Student Association; and Rabbi Jack Romberg of Temple Israel in Tallahassee, a frequent commentator on a range of social justice issues.
The FSU Center for the Advancement of Human Rights is sponsoring Marsh's talk as part of its "Human Rights and National Security in the 21st Century" lecture series in cooperation with the FSU College of Law, FSU's Muslim Law Students Association and The Village Square. The lecture series explores tensions between civil liberties interests and national security imperatives. This event will be held:
THURSDAY, APRIL 7
12:30 – 1:30 P.M.
FSU COLLEGE OF LAW ROTUNDA
425 W. JEFFERSON ST., TALLAHASSEE
Public parking is available across the street at the Tallahassee-Leon County Civic Center. The lecture also will be webcast live at http://law.fsu.edu/USAttorneyPamelaMarsh.html.