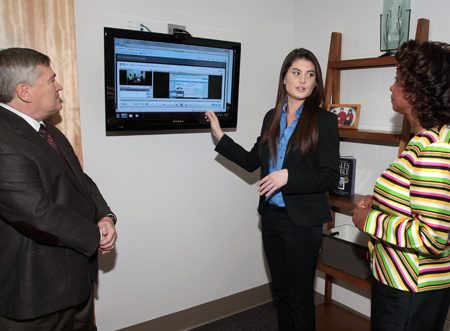 The dust has settled, the drywall is up, and a plaque outside the door that reads "Stephen C. Leonard Sales Laboratory" is affixed to the wall. With those improvements, as well as the addition of cutting-edge video and computer technologies, the Florida State University College of Business' newest learning laboratory is now open for business.
Made possible by a $125,000 gift from Stephen C. Leonard, the newly renovated lab space was formally launched on Feb. 3 with a ribbon-cutting ceremony attended by Florida State University President Eric J. Barron, Florida Lt. Gov. Jennifer Carroll, College of Business Dean Caryn L. Beck-Dudley, and dozens of business students and faculty members.
"This sales-laboratory space embodies the goal of the College of Business to provide high-quality, innovative instruction that prepares, challenges and inspires our students to shape the future of business," Beck-Dudley said prior to the ribbon-cutting. "This is an excellent example of the experiential component of our world-class education, which takes us beyond teaching from books and classroom lectures. It is an integral part of the undergraduate student experience, which helps further Florida State's mission of applied learning."
Following the ceremonial ribbon-cutting, attendees toured the Stephen C. Leonard Sales Laboratory, which boasts eight large role-play rooms, each equipped with state-of-the-art skills-assessment tools including a recording system that allows for simultaneous live viewing and digital recording of sales role-playing. Leonard's gift also provides the opportunity for annual software upgrades and license renewals.
"The Stephen C. Leonard Sales Laboratory creates a world-class learning environment for our award-winning sales team," said Pat Pallentino, an associate in marketing in the college's Department of Marketing and director of the Professional Sales Program. "With the help of this generous gift, our sales program is becoming one of the most advanced programs in the nation."
Stephen Leonard, who graduated with a degree in marketing from the FSU College of Business in 1979, is president of Team 1 Orthopaedics Inc., which markets, sells and distributes orthopedic medical supplies throughout Florida and Georgia. His Ponte Vedra Beach-based business specializes in medical products directly related to sports injuries.
"I feel very fortunate to be able to give back to the FSU College of Business and the Professional Sales Program in particular," Leonard said. "My entire career has been in sales and sales management, so I understand and appreciate the importance of learning and practicing successful sales fundamentals.
"In conjunction with the FSU marketing department, Pat Pallentino and his team have done a fantastic job in developing and growing the professional sales major," he said. "Their shared vision and desire is to offer the nation's best professional sales major, along with top-notch lab facilities. I'm extremely happy to be a very small part of that goal."
The professional sales major is open to College of Business students who desire to excel in a professional selling environment. The program focuses on developing students into future business leaders who understand consultative selling. With a 100-percent placement rate, the Professional Sales Program boasts several national sales championships over the past two years.
"This gift and renovation of the lab comes on the heels of our professional sales students winning back-to-back national sales competitions," Beck-Dudley said. "We are excited to be able to offer, with the help of Mr. Leonard, a premier sales program to our students that allows them to compete nationally and enhance their careers after graduation."
For more information about the Professional Sales Program, or to learn about sponsoring one of the eight role-play rooms within the lab, contact Pat Pallentino at (850) 644-7875 or ppallentino@cob.fsu.edu.