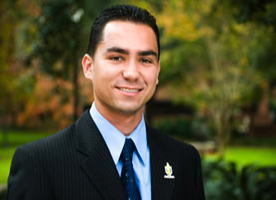 Florida State University's Aleksey Sanchez hopes one day to work as a Foreign Service officer to further improve relations between the United States and Russia by instilling mutual respect and understanding.
A lofty goal, but one that is a big step closer to reality now that Sanchez has won a Thomas R. Pickering Graduate Foreign Affairs Fellowship, an extremely competitive award for students seeking careers in the U.S. Foreign Service. Sanchez, who graduated magna cum laude in May with bachelor's degrees in Russian and international affairs, is one of only 20 students from across the nation to receive a 2010-11 fellowship.
The Pickering will provide financial support of up to $50,000 annually to cover tuition, room and board, and living expenses for two years of graduate study in international studies. Sanchez will attend George Washington University this fall where he will pursue a master's degree in international affairs with specialization in U.S. foreign policy and European and Eurasian studies. Upon earning his master's, he will work as a Foreign Service officer for a minimum of three years as part of his fellowship obligation.
"I'm extremely honored to have been chosen as a Pickering Fellow," Sanchez said. "Winning this fellowship is very special to me because it gives me the opportunity to continue my higher education and, most importantly, start a career with the U.S. Foreign Service, which I find to be a very interesting and exciting career path. Representing the United States abroad, helping American citizens and working with other countries is very important. I hope to be able to rise through the ranks and really be able to make a difference."
Sanchez is the third student from Florida State to win a prestigious Pickering Fellowship in the past five years, said D. Craig Filar, director of the Office of National Fellowships. But that's not all. Sanchez also won a Fulbright English Teaching Assistantship to Moscow and was accepted into the Russian Flagship Program to study in St. Petersburg, Russia, although he has had to decline those offers in order to accept the Pickering.
"Aleksey accomplished a great feat this year, being awarded both the Pickering Foreign Affairs Fellowship and a Fulbright English Teaching Assistantship to Russia," Filar said. "Aleksey's success is a reflection of his great talent and skill, as well as his commitment to building strong relationships between the United States and other countries around the world. He represents the very best of what our students at Florida State University embody."
Sanchez, whose mother is Russian and father is Cuban, said his unique heritage has had an enormous influence on his academic and career interests. Born in Russia, he moved to Cuba at age 2, and then to Florida when he was 9 and most recently hails from Hialeah Gardens, Fla."
My interest in finding out more about my Russian heritage really began at FSU when I started taking Russian language classes," he said. "With each class I took, I became more interested and really fell in love with the language, history and culture."
In 2008, he won a Department of State Critical Language Scholarship to study in Astrakhan, Russia, over the summer. He then spent the summer of 2009 with FSU's International Program in Moscow, thanks to a Winthrop-King Undergraduate Scholarship awarded to him through the Department of Modern Languages and Linguistics. Those experiences convinced him that he would like to live and work overseas, perhaps at an American embassy.
In addition to his academic accomplishments, Sanchez has served as a resident assistant for Deviney and DeGraff halls, president of Lambda Theta Phi Latin fraternity, and public relations chair for the FSU chapter of the National Hispanic Business Association.
The Pickering Graduate Foreign Affairs Fellowship is funded by the U.S. Department of State and administered by the Woodrow Wilson National Fellowship Foundation. The fellowship, named to honor one of the most distinguished American diplomats of the latter half of the 20th century, is intended to develop Foreign Service officers (FSOs) dedicated to representing America's interests abroad. FSOs are posted at any one of more than 265 embassies, consulates and other diplomatic missions in the Americas, Africa, Europe and Eurasia, East Asia and the Pacific, the Middle East and North Africa, and South Asia.