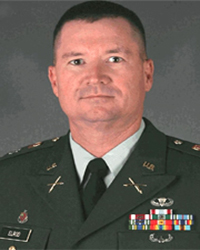 Army Lt. Col. Ronald P. Elrod, Commander of the Army ROTC "Seminole Battalion" at Florida State University, has been named the nation's top professor of military science for 2006 by the U.S. Army Cadet Command.
Elrod was selected from among professors at 273 colleges and universities nationwide that offer Army ROTC.
As the parent organization of the Army ROTC program and the largest officer-producing organization in the armed forces, Cadet Command presents its Incentive Awards annually to recognize excellence in its top performers from around the country.
"This award means a lot to me because it validates the outstanding efforts and hard work of the entire FSU ROTC cadre, staff and cadets," Elrod said. "It also represents the fantastic support we receive from FSU President T. K. Wetherell and his staff and faculty."
During his 20-year military career, Elrod has commanded up to battalion level and held staff positions up through Corps staff. In July 2004, he assumed command of FSU's ROTC unit—one of the largest ROTC battalions in the nation. Prior to taking command at FSU, he served as the J1 (Chief Human Resources Officer) for the Joint Intelligence Center in Pearl Harbor, Hawaii.
Elrod's personal and unit decorations include the Defense Meritorious Service Medal; the Meritorious Service Medal (three awards); the Army Commendation Medal (three awards); the Joint Service Achievement Medal; the Army Achievement Medal (five awards); the National Defense Service Medal (two awards); the Global War on Terrorism Service Medal; and the Korean Defense Service Medal. He also has been awarded the Army's Parachutist Badge and the Air Assault Badge.
A native of Winter Haven, Fla., Elrod graduated from Florida Southern College in 1986. He earned a master's degree in counseling and leadership development in 1995 from Long Island University in New York. He is also a graduate of the Joint Forces Staff College and the U.S. Army Command and General Staff College.
Army Reserve Officers' Training Corps (ROTC) units are located at 273 colleges and universities throughout the country. Students at roughly 1,200 other institutions of higher learning also can participate in Army ROTC training and become second lieutenants through partnership agreements with nearby schools. The program has trained and commissioned more than 500,000 men and women since its establishment in 1916.
The Army ROTC program at FSU comprises the military science department in the College of Arts and Sciences. It qualifies students for a commission in the United States Army, Army National Guard or United States Army Reserve, and offers both a four-year and a two-year program. FSU College of Nursing undergraduates can participate in the ROTC Nursing Program. To learn more, visit the Web site at: www.fsu.edu/~armyrotc/.
In addition to Army ROTC, FSU hosts an Air Force ROTC program—located in the College of Arts and Sciences' department of aerospace studies.