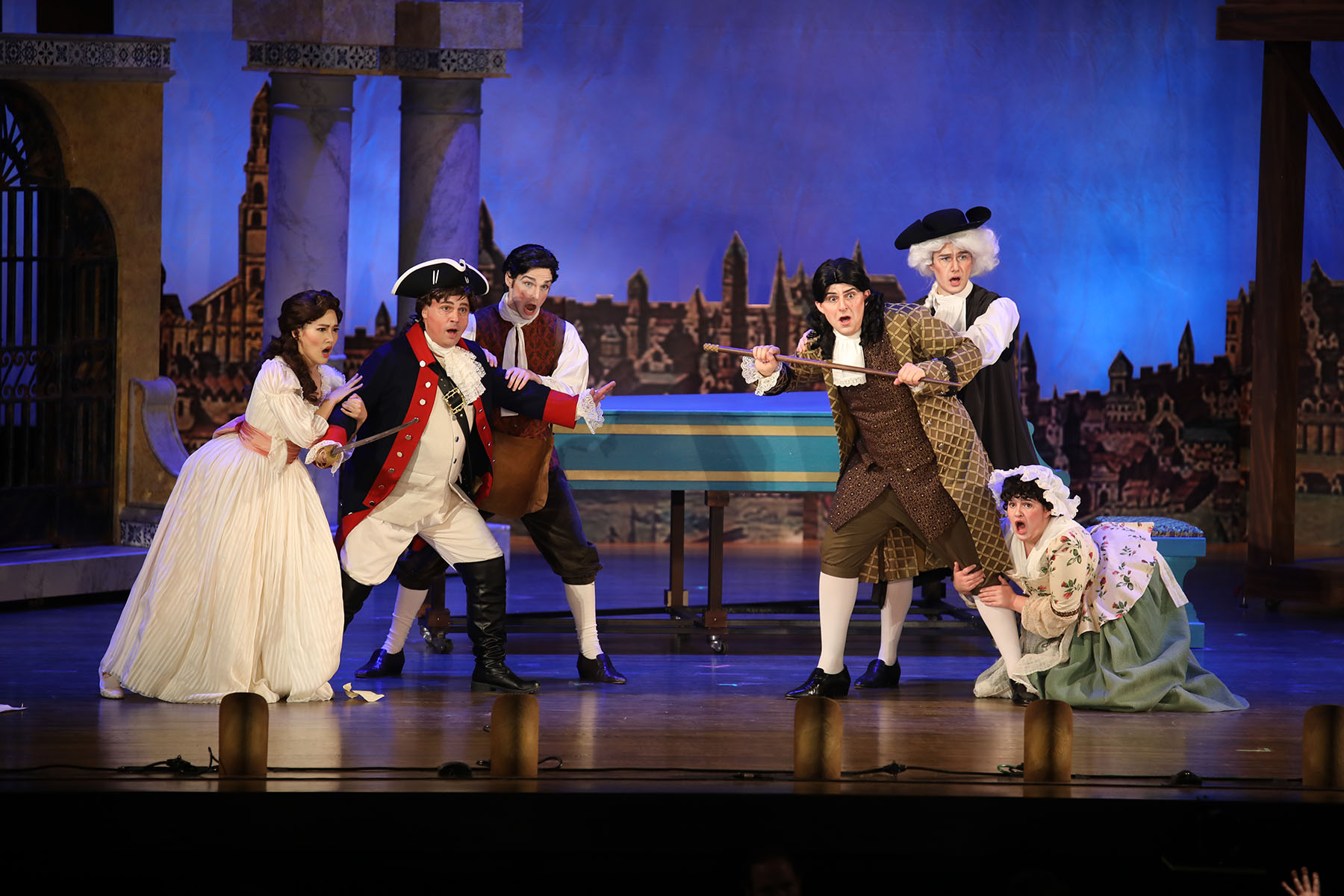 Florida State University's College of Music presents a unique and innovative rendition of the classic production of "The Barber of Seville," or "Il Barbiere di Siviglia," as the FSU Opera's fall production.
Performances will take place at 7:30 p.m. on Oct. 26-28 and 3 p.m. on Sunday, Oct. 29, in the Ruby Diamond Concert Hall. 
Originally composed by Gioachino Rossini, the timeless opera has captivated audiences for centuries with its humor and memorable vocal performances. FSU Opera will bring the classic production to the stage with a fresh, inventive approach.  
Professor and Stage Director of the Florida State Opera Matthew Lata will direct the program's rendition of "Il Barbiere di Siviglia."   
"Our production honors the commedia roots of the piece by putting primary emphasis on the improvisatory aspects of the performance style," Lata said. "We establish a unique set of rules that govern our version of Seville. In this chaotic world, architectural pieces can be moved when convenient and the scenery is animate and adversarial. Landscapes are jumbled, and storms can be created when needed. The next moment of chaos or the next explosion is right around the corner." 
Audiences can anticipate a visually captivating and dynamic interpretation of the opera through a stage design that brings an element of unpredictability that mirrors the tumultuous world of Seville's residents, where love, deception and comical mishaps prevail.  
Under the guidance of renowned faculty members, students will demonstrate their vocal and acting abilities and dedication to Lata's artistic vision. The production will be a testament to the College of Music's commitment to nurturing emerging talent.   
"Opera has long held a special place of prominence at the College of Music, and it serves as an ideal vehicle to showcase the talents of our musicians and the professional quality of our productions," said Todd Queen, dean of the college. "If you are one of many in our community who has been a regular patron of opera at Florida State University, we welcome you back for this production in Ruby Diamond Concert Hall."  
Tickets for "Il Barbiere di Siviglia" are $20 for adults, $15 for senior citizens, children and non-FSU students and $10 for FSU students with ID.    
For tickets or more information, visit tickets.music.fsu.edu.