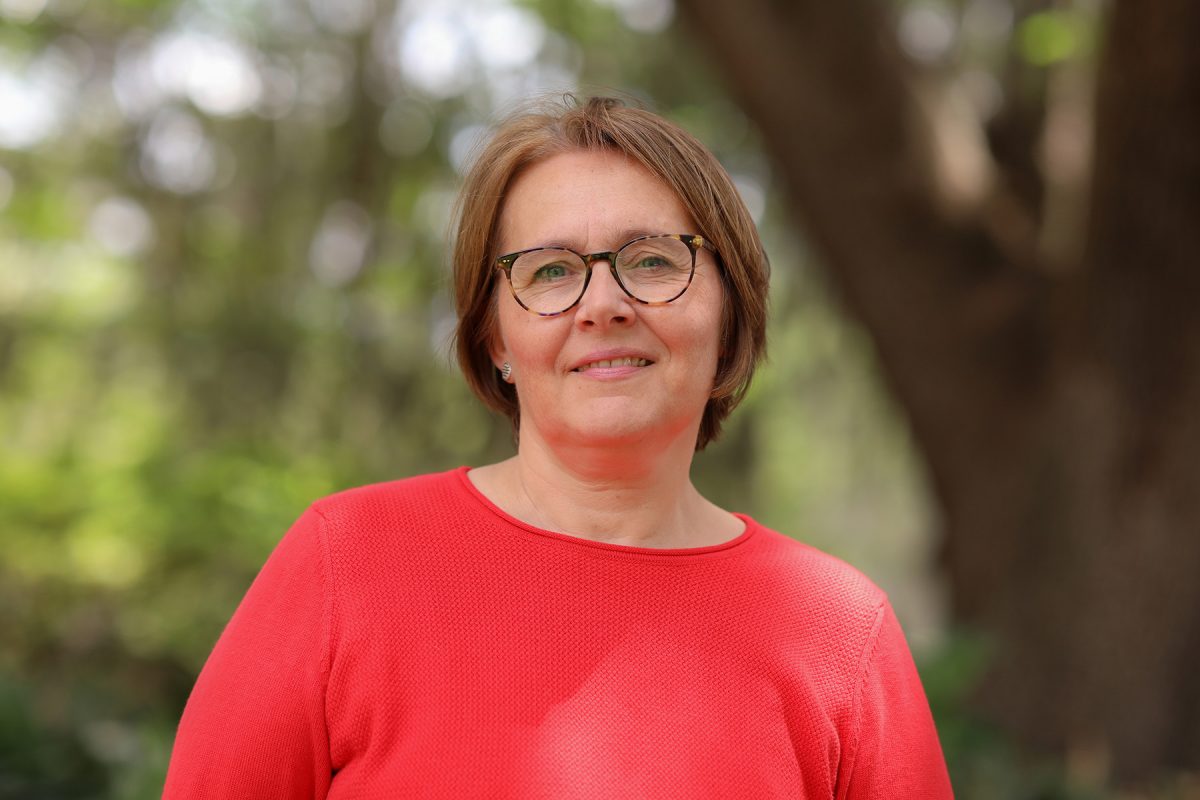 A Florida State University faculty member from the Department of Modern Languages and Linguistics is traveling to Austria this fall to conduct new linguistics research thanks to a prestigious Fulbright U.S. Scholar Award.
Tatjana Soldat-Jaffe, an associate professor of German and linguistics in the College of Arts and Sciences, received the award in support of her work on language translation and its role in social media, with a focus on migrant populations. Soldat-Jaffe will spend fall 2023 at the Karl-Franzens-Universität's Institute for Theoretical and Applied Translation in Graz, Austria, working on her next project, "Translation as a Social Practice: Refugee Writing in Social Media."
"As a Fulbright Scholar, I will join the ranks of many distinguished program participants," Soldat-Jaffe said. "It is the most widely recognized and prestigious international exchange program in the world with an acceptance rate of only 20 percent. So, I feel confirmed in my scholarship but humble to have received such a prestigious award."
The Fulbright U.S. Scholar Program offers over 400 awards in more than 135 countries for U.S. citizens to teach, conduct research and carry out professional projects around the world. Five FSU faculty members received Fulbright Scholar Awards for 2023-2024.
Soldat-Jaffe will spend four months conducting research in Austria, a cultural melting pot in the center of the European Union. The country hosts approximately 146,000 refugees and subsidiary protection holders and over 18,000 asylum-seekers, largely from Syria and Afghanistan, according to the United Nations Refugee Agency reports. In Austria, Soldat-Jaffe will work collaboratively with international partners in educational, political and cultural fields while teaching students in translation studies at the University of Graz.
"I am excited to work with the Institute for Theoretical and Applied Translation Studies at the Karl-Franzens-Universität Graz, Austria, which is known for its interdisciplinary approach to the study of translation from a sociocultural perspective," Soldat-Jaffe said.
Soldat-Jaffe, who joined the FSU faculty in 2016, conducts research on language and identity, the politics of language, minority languages and translation studies. This upcoming research was inspired by what she calls a need to reevaluate current academic approaches to translation since the definition of the text — or what needs to be translated — as well as the translation process itself, has changed.
"With the ever-changing technology in mind and an increase in migration, social media has provided refugees — and, generally speaking, migrants — a way to maintain and expand their network of communication," Soldat-Jaffe said.
Facebook, Soldat-Jaffe said, illustrates how social media can be used to provide social innovation for a diasporic community by means of sharing their experience, despite multilingual challenges. For example, the availability of a button that allows users to instantly translate text on the social media platform has made the translation process itself invisible to some extent, potentially skewing the way multilingual exchanges are perceived.
"This questions the traditional approach to translation studies: who is the translator and is the translated text still perceived as a translation?" Soldat-Jaffe said.
Department of Modern Languages and Linguistics chair Reinier Leushuis said Soldat-Jaffe's Fulbright Scholar Award not only allows her to explore these questions but also serves as a testimony to her cutting-edge research focus on sociolinguistics, the study of language as it relates to social elements, such as bilingualism and regional dialect, gender and class differences.
"Dr. Soldat-Jaffe's Fulbright Scholar Award is a recognition for the quality of her interdisciplinary explorations in language and identity, particularly in relation to minority languages," Leushuis said. "I am thrilled that both Fulbright and the Karl-Franzens-Universität's Institute for Theoretical and Applied Translation have recognized the importance of sociolinguistic studies such as hers on the intersection of migrant, refugee and minority communities and their linguistic behavior in mainstream media."
Leushuis adds that the department — which offers coursework in linguistics and across 10 different languages to prepare students for careers in federal government, foreign services, non-governmental organizations and the private sector — places great emphasis on the cross-disciplinary investigations of global language, culture and identity, and Soldat-Jaffe's interests are a prime example of this vision.
For more information, visit modlang.fsu.edu.