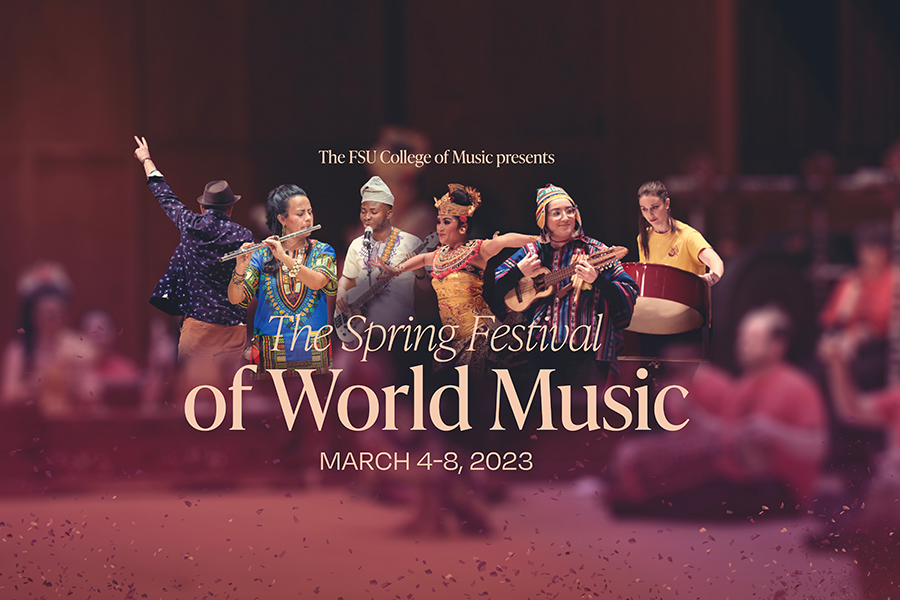 The Florida State University College of Music presents the Spring Festival of World Music, a series of concerts highlighting various musical traditions from around the world featuring student ensembles from the Department of Musicology.
The festival will run from Saturday, March 4, through Wednesday, March 8, with performances inspired by music from South America, North America, Africa and Southeast Asia.
"Our musicology program weaves the experience of making music along with the study of the people who create and enjoy it," said Greg Jones, associate dean of the College of Music. "These concerts are an amazing showcase of our global music community in the college and are not to be missed."
According to Jones, faculty members and students will perform alongside one another as part of an immersive study of music from the past and worldwide.
The festival begins with the annual Rainbow Concert, which features different ensembles offered by FSU's World Music Ensembles Program ranging from Appalachia to Indonesia. It is the only ticketed event of the Spring Festival of World Music.
"This evening of celebration with songs, dance and instrumental music of different communities across the globe showcases sonic features of musical expressions from far and near," said Vivianne Asturizaga, an FSU Legacy Fellow and doctoral candidate of musicology. "Performing with my professors, colleagues, and highly talented students at the Rainbow Concert is very special since we can share the magic that happens in our classrooms. The world music program at the College of Music has been crucial in my education as a musician. I am honored to be a part of this growing sensitivity to cultural diversity through music at FSU."
For more information, visit music.fsu.edu.
---
Rainbow Concert
7:30 p.m., Saturday, March 4
Opperman Music Hall
Since 1997, FSU's internationally renowned World Music Ensembles Program has brought the world of music to Tallahassee in its annual concert event. This year's show features flutist Vivianne Asturizaga, who hails from La Paz, Bolivia, and has established an international musical and musicological career of distinction. She will lead the Andean Ensemble and be featured in performances with the Sekaa Gong Hanuman Agung Balinese Gamelan directed by Michael Bakan, the Grupo Jaraguá Brazilian Ensemble directed by Panayotis League and the Afro-Nyota African Contemporary Ensemble led by FSU doctoral student and McKnight Fellow, Alaba Ilesanmi. Included in the global musicultural tour are performances by the Old Time Ensemble, Omnimusica Experimental Music/Noise Ensemble, Modern Pop Ensemble, Mas 'N' Steel and Zambian musician and FSU doctoral student Prince Lamba.
Andean Ensemble and Old Time Ensemble
7:30 p.m., Monday, March 6
Opperman Music Hall 
Led by Asturizaga and featuring Florida State students, the Andean Ensemble will perform traditional and contemporary pieces by composers from South America's traditional music and dance from Argentina, Bolivia, Colombia and Peru.
The Old Time Ensemble, directed by Aisha Aivey, focuses on North America's traditional music and dance. Students learn ballads and Appalachian-style fiddle tunes on various instruments, including fiddle, guitar, banjo, ukulele, mandolin, dulcimer and piano.
Mas 'N' Steel and the Sekaa Gong Hanuman Agung Balinese Gamelan
7:30 p.m., Tuesday, March 7
Opperman Music Hall 
Directed by Zachary Moreau, Mas 'N' Steel is a Trinidadian-style steel band whose repertoire includes traditional works for steel band, Panorama compositions and a wide range of arrangements encompassing classical, jazz, and additional popular music styles.
Led by Professor Michael Bakan, the Sekaa Gong Hanuman Agung Balinese Gamelan will present selections from the gamelan repertoire, a rich Balinese musical tradition centered around percussion instruments.
Afro-Nyota and Grupo Jaraguá
7:30 p.m. on Wednesday, March 8
Opperman Music Hall 
Directed by Alaba Ilesanmi, Afro-Nyota, whose name means "African stars" in Swahili, seeks to promote contemporary popular music from West and South Africa as an authentic African music tradition, providing African communal experiences to showcase the diversity and nuances of contemporary African nations.
Grupo Jaraguá will perform "Afro-Brazilian Synergies," which explores various genres of music, including samba, forró, maracas and bossa nova, emphasizing the contributions and innovations of Afro-Brazilian composers and performers from across Brazil and its diaspora.