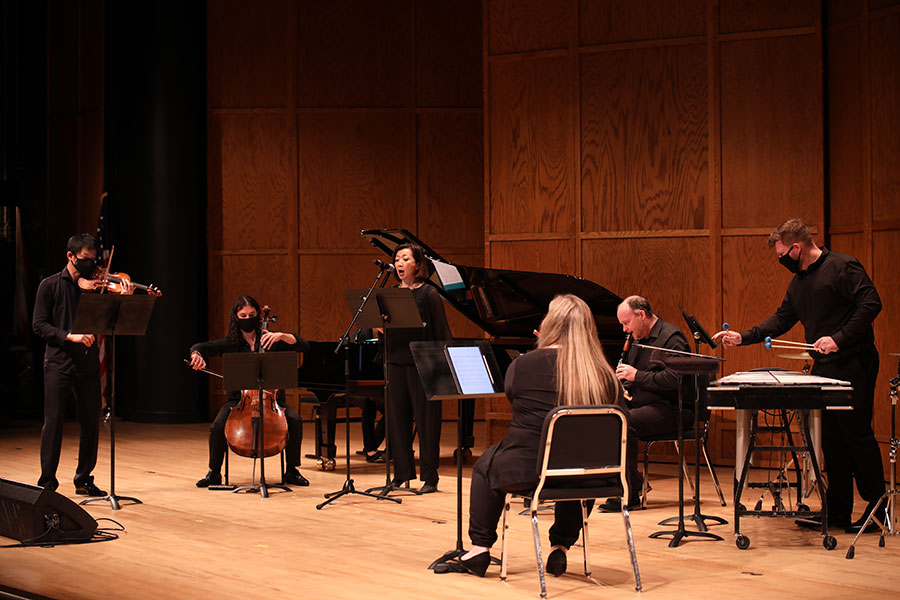 The Florida State University College of Music presents "Silenced Voices," a chamber music series featuring works created amidst wars and oppressive political regimes.
"The purpose of this series is to increase awareness among the participants and audience about the crucial importance of the social environment for art music and the impact of social and political events on artistic decisions and, consequently, on the music history," said Liliya Ugay, assistant professor of composition and director of FSU's new music ensemble, Polymorphia.
Ugay started the series in 2016 during her time as a doctoral student at Yale University.
"This series of presentations shares snapshots from vulnerable voices suffering extreme conditions with music that stimulate a myriad of complex emotions," said Gregory Jones, associate dean for outreach and engagement at the College of Music. "Combining the forces of incredible faculty from FSU and Yale University with these voices and their recollection provides thought-provoking insight into our shared humanness."
The series will begin Feb. 8 and run through March 28. All events are free and open to the public.

Boris Berman Masterclass
2:30 p.m. Wednesday, Feb. 8
Westcott Building, Room 060
The series will begin with a masterclass led by Boris Berman, an internationally renowned pianist and pedagogue and Head of Piano Studies at Yale School of Music. During this masterclass, Berman will listen to selections performed by College of Music students and offer critical feedback. Works will include Schubert's Sonata in A Minor, selections from Rachmaninoff's 9 Études-tableaux, Prokofiev's Sonata No. 8 in B-flat Major, and Schnittke's Serenande for Five Instruments (performed by Polymorphia). 
Boris Berman presents works by Valentin Silvestrov
7:30 p.m. Thursday, Feb. 9
Opperman Music Hall  
Berman will present a lecture-recital performing works by Valentin Silvestrov, "the most prominent Ukrainian composer of the last 100 years," according to the New York Classical Review. The collaboration between Berman and Silvestrov traces back to the 1960s when the composer and pianist first met. The upcoming recital can be viewed as a culmination of Berman's exploration of Silvestrov's music. Berman recently presented the same recital at the Baryshnikov Arts Center in New York and was hailed by the New York Classical Review as "deeply dedicated to the music" and "completely absorbing in beauty and focus." 
Polymorphia presents works by oppressed composers during the Soviet Regime
7:30 p.m. Thursday, Feb.16 
Dohnányi Recital Hall  
Polymorphia, FSU's new music ensemble, will present a lecture-recital of music by composers who "expressed their voices amidst the limitations and oppressions of the Soviet regime." The concert will feature FSU Faculty members Sahoko Sato Timpone (mezzo-soprano) and Noël Wan (harp), and FSU alumnus and orchestra director at Maclay's school, Aaron Seiler (violin). The event will also use immersive design by College of Music graduate student Bella Schwerin. 
Polymorphia presents works by composers-emigres  
2 p.m. Saturday, March 4 
Museum of Fine Arts 
Polymorphia will present an additional lecture-recital featuring works by composers-emigres from various parts of the world. The lecture recital will be held in conjunction with the MoFA exhibition "Passport." 
College of Music professors and students present works by composers persecuted by Nazis 
7:30 p.m. Monday, March 27, and Tuesday, March 28 
Longmire Recital Hall
The final concerts of the chamber music series — directed by Benjamin Sung, associate professor of violin, and David Kalhous, associate professor of piano — will feature FSU College of Music students highlighting works by composers persecuted by Nazis.  
For more information about the spring chamber music series and the FSU College of Music, visit music.fsu.edu.