---
Florida State University's School of Theatre unveiled two scenic exhibits at the Richard G. Fallon Theatre, where guests can step on stage and experience the designs first-hand before they make an international journey on Thursday, Jan. 12, at 10:30 a.m. at the Richard G. Fallon Theatre.
Florida State University was chosen out of dozens of universities across the country as the build site to represent the United States of America at the Prague Quadrennial of Performance Design and Space due to the exceptional capabilities, facilities and resources of its theatre program.
"We are incredibly excited to be unveiling these works in the Fallon Theatre," said James Frazier, dean of FSU's College of Fine Arts. "Being selected as the build team for the Prague Quadrennial is a great honor and is indicative of the high caliber of our technical theatre program."
Known as "the Olympics of performance design," the Prague Quadrennial of Performance Design and Space hosts tens of thousands of designers, scholars and professionals from around the globe. The two designs constructed at FSU will represent the United States on the global stage in the Czech Republic this June.
The build team, led by Jim Lile, associate professor of technical production, is made up of eight FSU School of Theatre technical production graduate students and several theatre faculty members.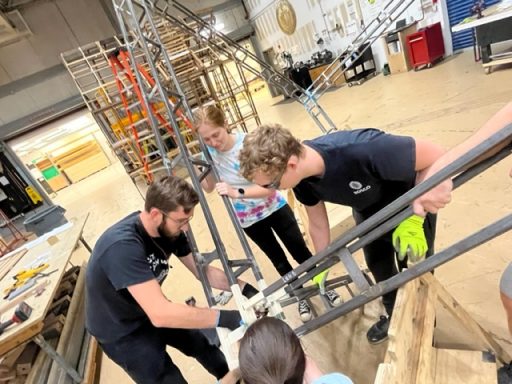 Students and faculty worked alongside a professional curatorial team selected by Prague Quadrennial organizers that included Tony-nominated artistic director Kevin Rigdon and head curators Patrick Rizzotti and Tatiana Vintu. Together, they have put in more than 1,200 hours on the project since construction began in April 2022.
"This has been a great opportunity for our students to expand their skills and present their work to a larger audience," Lile said. "Usually, we build shows in our shop and put them on stage. Now we are building it, taking it down, fitting it in a container and shipping it around the world. Everything is on a greater scale. This work could be seen by 70,000 people."
The Prague Quadrennial accepts entries from competing countries in two categories, national and emerging. The national exhibit features established or professional theater artists in the following disciplines: scenic, costume, lighting, sound, and multimedia. The emerging exhibit will display early career designers.
Both FSU entries make prominent use of recycled and repurposed materials, a point that was important to the designers. The national exhibit is built from "heart of pine" floorboards from a 1923 house in Gainesville, and the emerging exhibit is built from steel, local white oak lumber and printed banners.
The build team will travel with the structures to ensure they are assembled properly on-site. For many members, this will be their first time traveling internationally.
Following the unveiling, the structures will be on display from March 15-18 at the United States Institute for Theatre Technology national conference in St. Louis, Missouri, before being shipped to Prague for the Quadrennial.
The event is free and open to the public. Visit forms.cfa.fsu.edu/rsvp to RSVP and for more information.
Those interested in helping FSU's team travel to Prague to represent the United States can visit Spark.fsu.edu/pq23 to donate.