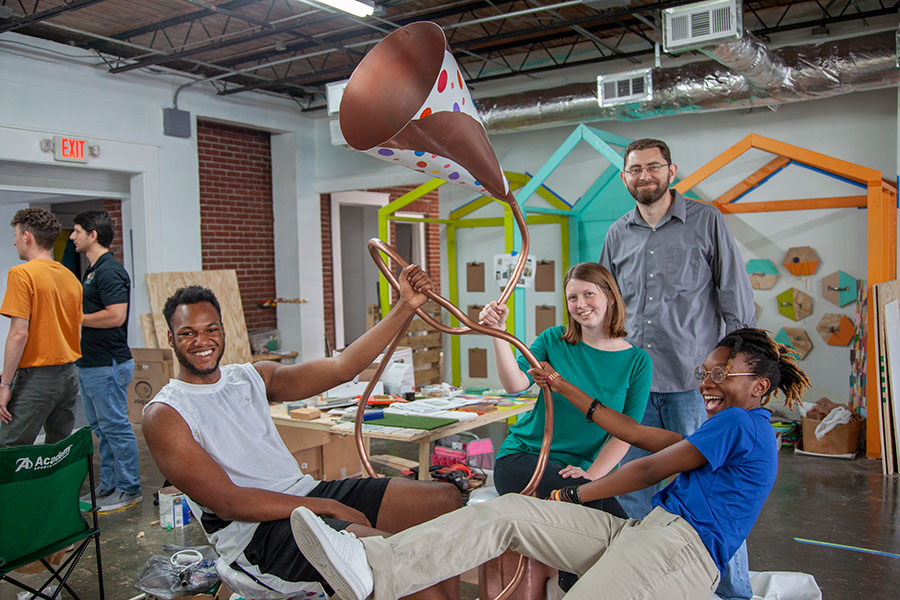 Engineering and art students might have more in common than people think.
This spring, Florida State University brought students from the two disciplines together for a Mechatronic Art class, where they collaborated to design interactive stations for a creative play lab at The Sharing Tree, a local nonprofit.
Mechatronics is an engineering field that brings together multiple disciplines to design objects that involve mechanical parts, electronics and software. The class, taught by Assistant Professor Rob Duarte from the College of Fine Arts and Associate Professor Jonathan Clark from the FAMU-FSU College of Engineering, fuses the disciplines of art and engineering to create an environment where technical practice can merge with theoretical technique.
Clark said that while engineers are clever at creating the functioning for mechatronic devices, these devices typically aren't visually appealing or user-friendly. That's where art students come in.
"Engineering students have lots of technical skills, but in the world, they're going to need to connect those technical skills with other people in order to accomplish things," Clark said. "In this class, they see that when they work together with artists, they can create amazing things."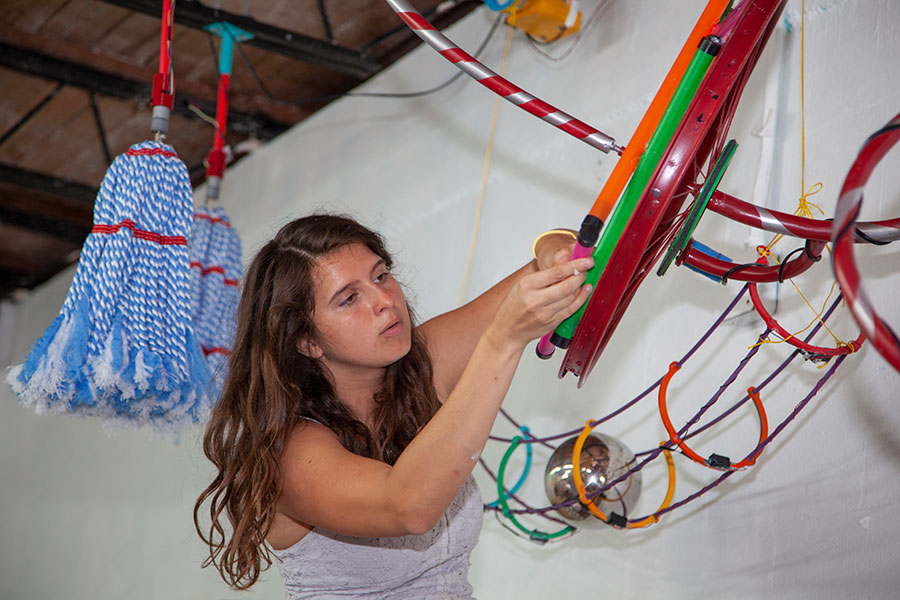 For their class project, students were divided into three groups — half engineers and half artists — and charged with creating interactive play stations for The Sharing Tree. The nonprofit, which started as a reusable resource center for artists, educators and the broader learning community, recently expanded to offer summer camps for children, art classes and a rental space for kids' parties.
The interactive play stations were required to incorporate mechatronic engineering in a way that was kid-friendly. At one station, yoga balls are inserted into a mat serving as a dancefloor. Jumping on the balls activates sounds and moving objects.
Another station is a large horn with spinning seats around it. When the seats spin, the horn generates a mixture of electronic sounds and bird noises.
The third station is a spaceship-like structure for kids to play astronaut in. It's complete with a mock control panel and a monitor displaying a moving starfield, creating the illusion that the children are actually driving through space in a spaceship.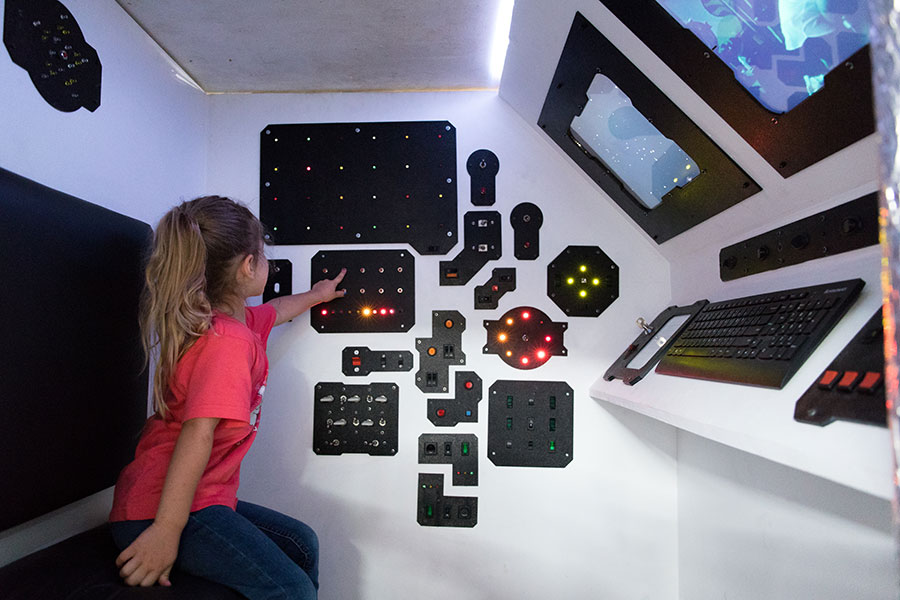 The stations will become a mainstay in the creative play lab at The Sharing Tree, which is opening its new location at 218 E. Third Ave. for summer camp on June 3. Carly Sinnadurai, executive director of The Sharing Tree, said observing the mechatronics students on their creative journey was a symbol of everything that her organization embodies.
"Listening to some of their ideations was my favorite because art and engineering speak different languages, yet they had these amazing 'aha' moments of wonder and success," Sinnadurai said. "The students created amazing, modern works of art for our creative kids to experience. The contribution to something real and tangible is empowering, and as a nonprofit organization, this is a mutually beneficial relationship."
Duarte said that one objective of the class is to teach how students from different scholastic backgrounds can work together.
"The goal of the class is to have them not only teaching each other and learning how to work with each other, but also recognizing the overlap between the two disciplines," Duarte said. "Also, I think engineering and art students benefit from getting outside of the classroom and interacting with someone who's like a client. They've had to deal with this really unique set of requirements of making something that's going to exist in public, around kids, and those challenges combine to create a unique experience for our class."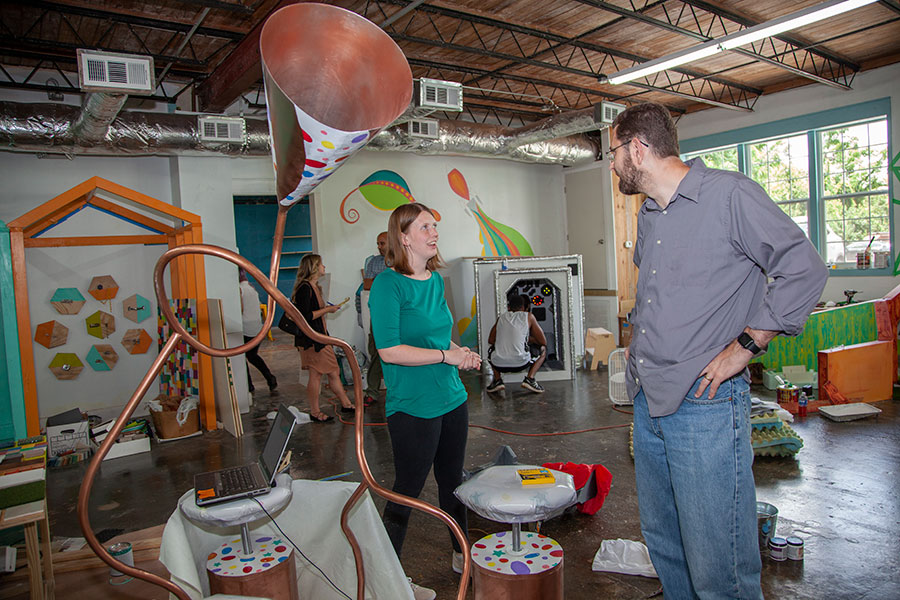 Ashley Chase, a graduate student studying mechanical engineering, said bringing artists and engineers together encourages students to learn new skills.
"I'm an engineer by study, but I do a lot of art on my own free time, so I was very interested in the class from the aspect of being able to use both sets of skills to make something," Chase said. "I learned a lot more fabrication skills and got my hands on materials such as wood and power tools, which in engineering sometimes it's more theory, so I picked up a few skills and I learned a lot from my partners."
Dillon Gleeson, who recently graduated from FSU with a bachelor's degree in studio art, compared the opportunity offered by this class to what's expected in the real world.
"A lot of the work that we've done as art students exists in an art-school setting," Gleeson said. "Realistically, if we want careers in art, we are going to need to communicate with other professions in order to execute projects or to become a part of projects. I think it's really important to collaborate in any way, and this is one of the largest collaborations that any of us have been a part of in our college careers."
The art students in this semester's Mechatronic Art class were Sophia Baldwin, Derek Brown, Dillon Gleeson, Robert Riley, Maddie Wishart and Reona Woods. The engineering students were Ashley Chase, Tomas Fajardo, Ben Leathers, Todd Montuoro, Owen Paul, Kyle Voycheske and Brianna Wylie.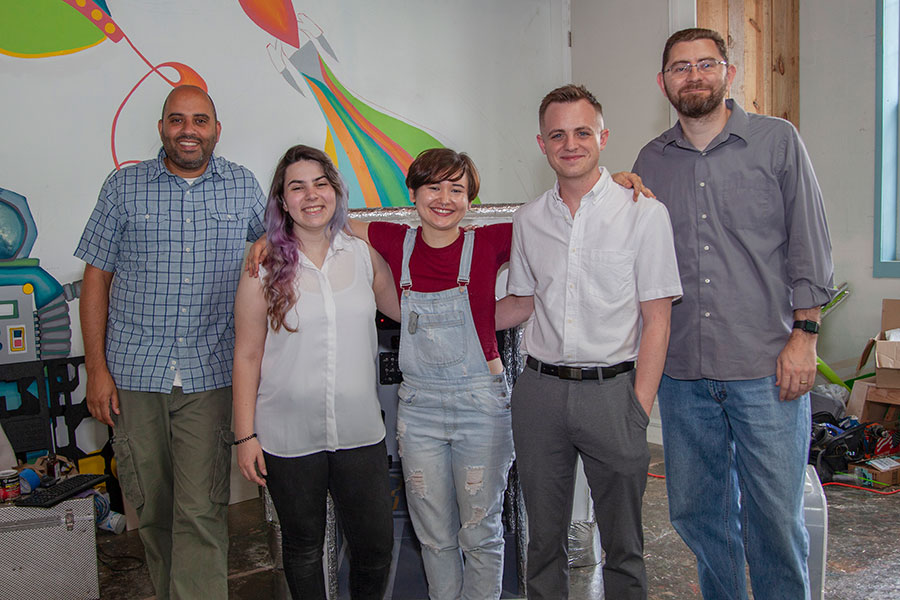 For more information about the FSU College of Fine Arts, visit cfa.fsu.edu. For more information on the FAMU-FSU College of Engineering, visit eng.famu.fsu.edu.