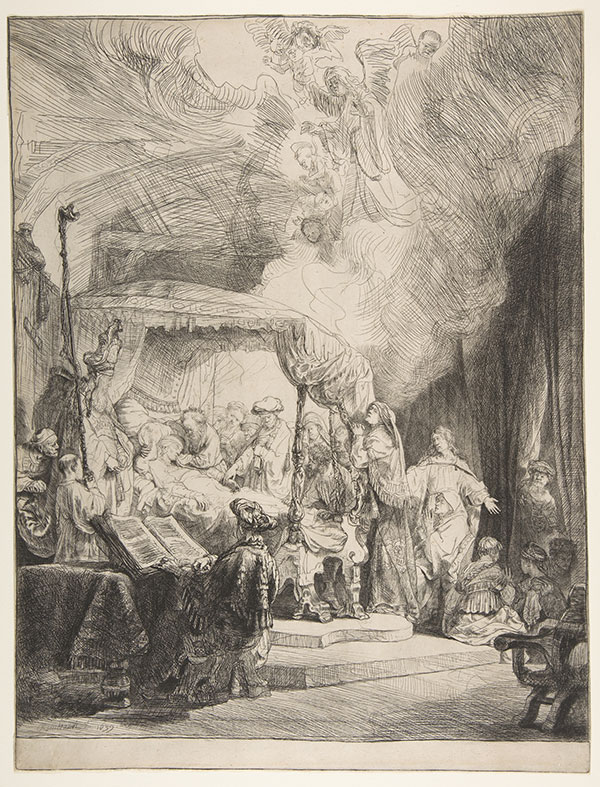 Sometimes, a new project reaches you at an unexpected time.
That was the case when former FSU doctoral student Lesley Wolff was working as a research assistant at FSU's Museum of Fine Arts.
Wolff, now a postdoctoral fellow at the Norton Museum of Art in West Palm Beach, was helping former museum director Allys Palladino-Craig prepare for the opening of "A Fortnight of Rembrandt," a major exhibition of Rembrandt Harmenszoon van Rijn etchings on loan by Drs. Morton and Tobia Mower.
FSU Vice President for Research Gary Ostrander approached Wolff, then a master's student, about collaborating with him and Morton Mower on an article about an etching called "Death of the Virgin" that depicts the Virgin Mary's assumption.
"Of course I was thrilled to take Dr. Ostrander up on the offer to collaborate, which was a rather extraordinary opportunity for an MA student such as myself," Wolff said.
That was 2013. Now, that article is being published in The Pharos Journal, of the Alpha Omega Alpha Honor Medical Society.
The paper examines a part of the etching that Mower always found interesting. The altar boy in the piece is holding a staff that is topped by what looks like a serpent as opposed to a crucifix.
"This stunning and elaborate etching has often been discussed in terms of its religious imagery," Wolff said. "In collaboration with Dr. Mower, a collector of works by Rembrandt as well as a licensed physician, I set forth an interpretation of this etching through the lens of medical and proto-scientific history and iconography. This is done most explicitly through a discussion of the Greco-Roman symbol of the Rod of Asclepius (today recognizable as the symbol of the American Medical Association) as one of the more peculiar and fascinating aspects of this composition."
The icon of the serpent is used throughout Christian literature with Jesus indicating that the bronze serpent is a foreshowing of himself. The snake coiled around a staff was also viewed as a powerful symbol of healing, supposed to heal those who were bitten by snakes in the desert.
Wolff and Mower argue in their article that this was a very intentional choice by Rembrandt designed to "elevate the religious to the same standing as scientific discourse."
Rembrandt lived in Amsterdam two doors away from the most famous rabbi of the period, Rabbi Samuel Menasseh Ben Israel, from whom he learned of a passage in the Old Testament about God commanding Moses to make a bronze serpent, mount it on a staff and show it to sick Israelites, who would then be cured.
Rembrandt painted during the Age of Enlightenment, a time where there were major advances in science and philosophy. His work in general demonstrates "a wealth of biblical, classical and scientific knowledge" the researchers wrote.
That knowledge manifests itself in "Death of the Virgin," where Rembrandt explores themes of life and immortality in the post-Reformation Enlightenment period.
"These are all fascinating insights into what Rembrandt was thinking and what it is he was trying to do in this art," Mower said.
Mower became a bit of an expert on Rembrandt after he and his wife began collecting the Dutch master's works.
In the 1990s, Mower and his wife moved from Minnesota to Baltimore where he met and collaborated with Ostrander, who was on the faculty at Johns Hopkins University.
The Mowers were decorating their new home when an art buyer alerted them that failing Japanese banks were quietly selling off their artwork collections.
"So, we started there," Mower said. "And then more became available, and I bought them. And then more became available and I bought them, and it got totally out of control."
The Mowers regularly loan their collection to educational and nonprofit institutions wishing to run exhibits, including Florida State.
"Each show has been bigger and better," Mower said.
The Florida State show was the first to result in an academic study and put Mower in the position of mentoring an art history student as opposed to a medical student.
"As an art historian-in-training at that time, it was fascinating to collaborate with two scholars who came from the sciences," Wolff said. "Not to mention Dr. Mower's investment in the material as a collector and connoisseur, which was also distinctive from the kinds of approaches I was accustomed to taking in my own art historical research. The diversity of voices in the mix was a great strength of the collaboration and allowed for some truly original ideas to come forth."