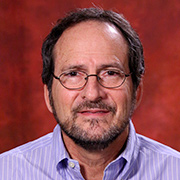 Chair of Behavioral Sciences and Social Medicine
Dr. Beitsch's focus is on health policy and public health. He serves as Chair of the Department of Behavioral Sciences and Social Medicine. He is also affiliated with the Center for Medicine and Public Health.
Dr. Beitsch is the former commissioner of health for the state of Oklahoma as well as a former deputy secretary for the Florida Department of Health. He can comment on the following topics:
• Health care financing
• Population health
• Medicaid and uninsured
• Public health law
• Social determinants
• Tobacco
(850) 645-1830
les.beitsch@med.fsu.edu


Dr. Ricardo Gonzalez-Rothi is chair of the Department of Clinical Sciences at the College of Medicine and has an extensive background and experience in the fields of pulmonary and critical care medicine.
(850) 645-9732
ric.gonzalez-rothi@med.fsu.edu