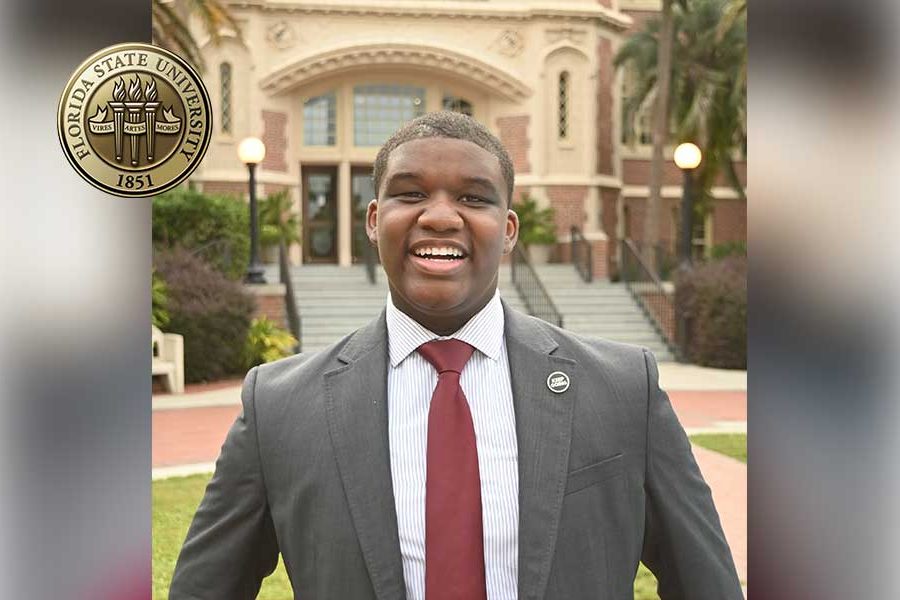 For the third straight year a Florida State University student has been named a scholar in the John Robert Lewis Scholars & Fellows Program.
Rodney Wells, a sophomore majoring in interdisciplinary social sciences from Jacksonville, Fla. joins a cohort of eight scholars selected from colleges across the country.
The John Robert Lewis Scholars & Fellows Program was founded by the Faith and Politics Institute in honor of former congressman, civil rights and voting rights icon John Lewis. Wells is the third FSU student to be named a scholar in the program, which launched three years ago.
"In studying the principles that guided John Lewis, these principles of nonviolence serve as the north star in the pursuit of civil rights and social justice," Wells said. "I'm not only grateful, but very hopeful that this makes me a better leader at FSU and in my home community in Jacksonville."
According to the Lewis Foundation, scholars "examine Lewis's nonviolent philosophy from a historical perspective; and identify their applicability to modern times and movements, current issues, and everyday life."
The program includes a $2,000 scholarship and travel to Washington, D.C and to Selma, Alabama, where Lewis joined other civil rights leaders in a historic march to Montgomery, Ala.
Wells distinguished himself in part through being active in student government, as a member of FSU's Council on Equity, Diversity & Inclusion and spearheading the Garnet and Gold Voting Initiative.
He also served as a National Democracy Fellow for the NAACP, redistricting intern for the ACLU of Florida, and a congressional intern through the Congressional Black Caucus Foundation.
Wells' career aspiration is to become a civil rights attorney and he knows being a Lewis scholar will prepare him for that goal.
"We are in a time when the work of John Lewis is needed," he said. "Studying the work of John Lewis, the principles that guided him, will help build the foundation for the work that I will do for the rest of my life."
For more information, visit https://www.faithandpolitics.org/-meet-our-20232024-scholars-fellows.