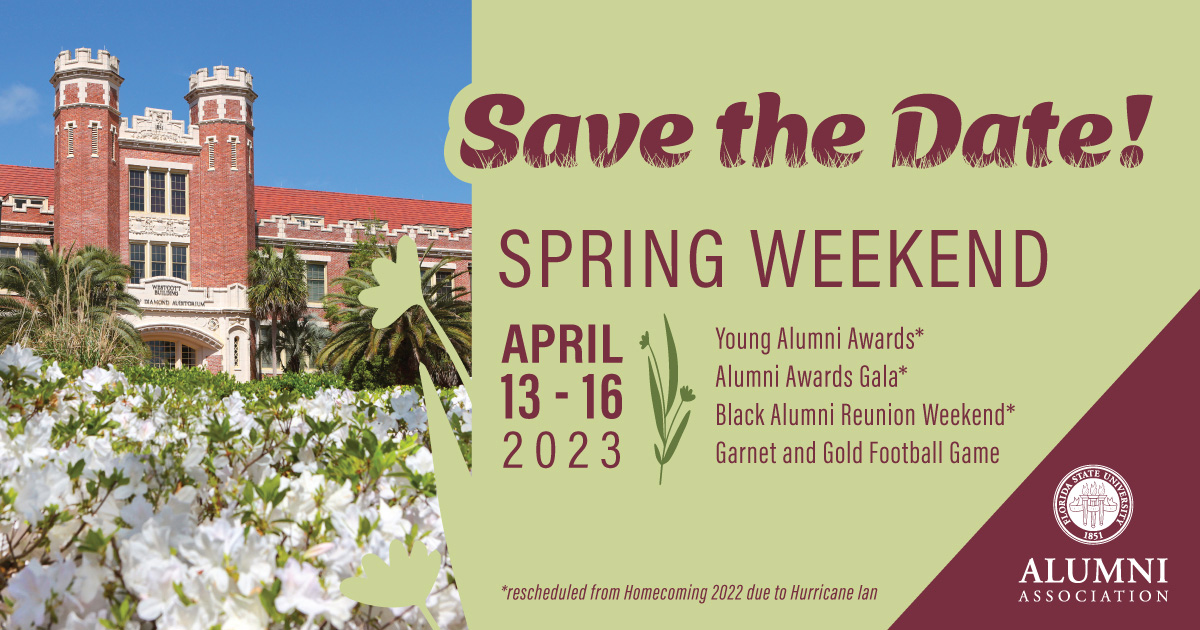 The Florida State University Alumni Association will recognize distinguished alumni through a series of events starting Thursday, April 13, 2023.
As a result of campus closures due to Hurricane Ian, the FSU Alumni Association was unable to celebrate its 74th annual Homecoming events last fall. The Young Alumni Awards, Alumni Awards Gala and National Black Alumni Reunion will take place this spring to honor alumni and faculty for their diligent work throughout the FSU community and beyond.
"We are thrilled to welcome alumni back to campus for a Spring Weekend and finally celebrate our incredible alumni and faculty who missed the opportunity to be honored last fall," said Julie Decker, president and CEO of the FSU Alumni Association. "This week serves as a reminder of the prominent alumni that Florida State produces and their commitment to the university's tradition of excellence. We invite all alumni, students and friends to join us in recognizing their achievements."
---
Thursday, April 13
Young Alumni Awards
The 10th Annual Young Alumni Awards will honor recipients of the 2022 Reubin O'D. Askew Young Alumni Award and Notable Nole recognition.
---
Friday, April 14
Circle of Gold Reception
The FSU Alumni Association's Circle of Gold members will gather for networking and a reception before the Alumni Awards Gala.
Alumni Awards Gala
The Alumni Awards Gala celebrates notable alumni who personify Florida State University's tradition of excellence through their service and achievements. The event will recognize the 2022 Circle of Gold inductees as well as the Bernard F. Sliger Award honoree, the recipient of the highest honor bestowed upon an alumnus by the FSU Alumni Association.
---
Saturday, April 15
FSU Spring Game: Garnet vs. Gold
The Florida State Seminoles football team will participate in their annual spring game in Doak Campbell Stadium.
FSU National Black Alumni Reunion
The FSU National Black Alumni Reunion will feature a weekend of events to unify Black alumni from all decades and from every college, school and Greek-letter organization, plus current students and other constituent groups. The reunion will include special events honoring the 60th anniversary of integration such as the FSU National Black Alumni Sankofa Recognition Breakfast which includes campus tours followed by a tailgate before the spring game.
---
Sunday, April 16
FSU National Black Alumni Awards and Scholarship Ceremony
The FSU National Black Alumni will recognize their 2022 scholarship recipients and present alumni and faculty awards.
---
Stay tuned for more information regarding time, location and ticket registration. For more information, visit alumni.fsu.edu/events or follow the FSU Alumni Association on social media.