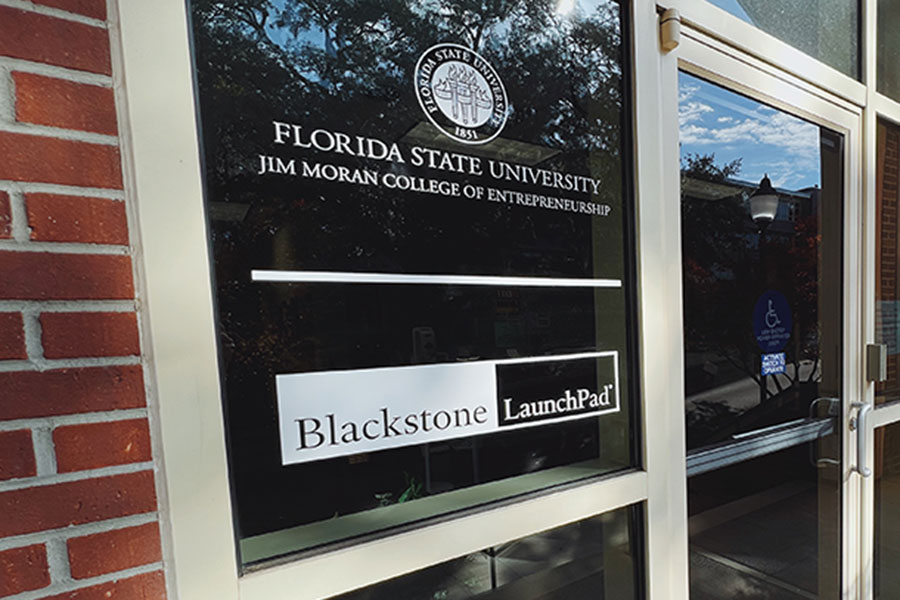 The Jim Moran College of Entrepreneurship officially welcomed the Blackstone LaunchPad® Program to Florida State University last month.  
Blackstone Charitable Foundation, the philanthropic arm of investment firm Blackstone, is providing the LaunchPad program through a grant to the Jim Moran College.  
Through the program, students can access mentoring networks, learning tools, participate in fellowships and convene with students and staff at events that tap Blackstone's network of entrepreneurs and resources.  
Susan Fiorito, dean of the Jim Moran College, said LaunchPad's resources are welcome to any student looking to start and grow their ideas into viable businesses. 
"One focus of the program is to help students develop an entrepreneurial mindset as well as provide resources to help the Jim Moran College reach more students all over campus," she said. "The Blackstone LaunchPad grant focuses on bringing together a diverse group of students by adding new skillsets to whatever major they are pursuing." 
The college hosted a kickoff event called Launched @ Landis on Landis Green on Jan. 31. LaunchPad student representatives and staff were on hand to share their experiences in the program and to answer questions with interested students. 
Students enjoyed tasting products from local entrepreneurs, Jarrett Maloy, owner of Jmo's SneauxBall Catering Company, and Courtney Whalen, founder of Live Love Macaron. 
The Blackstone LaunchPad is housed in the Roderick K. Shaw Building with co-working spaces and mentoring services available for all students.   
There is also a bi-weekly Blackstone LaunchPad Ideathon pitch competition during the Seminole Innovators Lunch Hour in the Innovation Hub. Students can win $100 by pitching their solution to a problem.   
More details can be found at https://www.innovation.fsu.edu/ideathons. 
For more information about LaunchPad, visit blackstonelaunchpad.org.