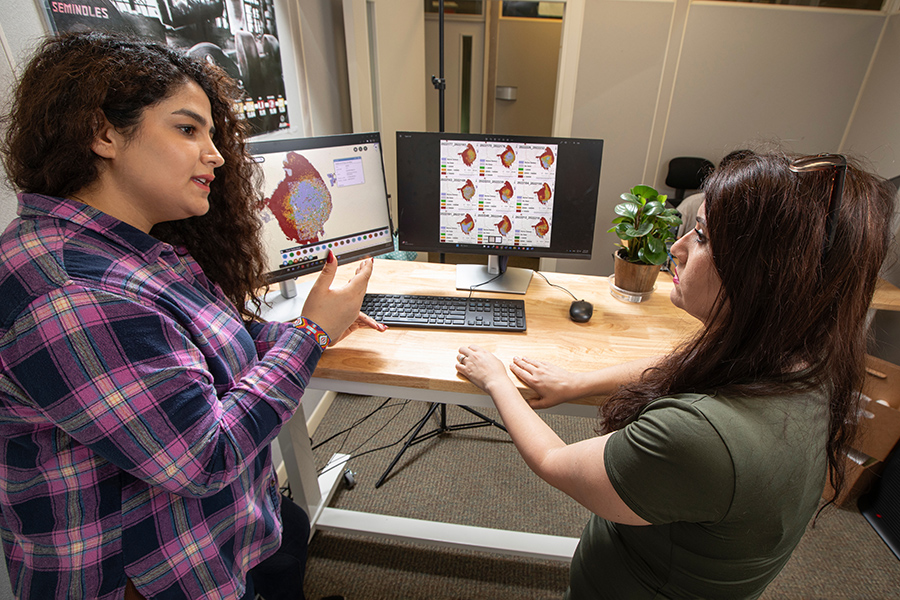 A new project led by Nasrin Alamdari, an assistant professor in the Department of Civil and Environmental Engineering at the FAMU-FSU College of Engineering, will help communities throughout Florida fight the harmful blue-green algae (cyanobacteria) that plague freshwater lakes across the state.
Florida's freshwater systems sometimes experience cyanobacteria blooms that are harmful to public health and wildlife. Knowing where they might occur next gives officials an opportunity to mitigate the problem before an outbreak.
With a $338,575 grant from the Florida Department of Environmental Protection, Alamdari and Sara Kamanmalek, a postdoctoral researcher at the college, are developing a tool that can predict harmful blue-green algae outbreaks. Its calculations will help the decision makers and water managers manage the problem more effectively.
"We are using machine learning algorithms, water quality datasets, climatological data and remote sensing data to predict where algae is likely to be problematic," Alamdari said. "We now have a cutting-edge online interactive tool that uses satellite data to predict these blooms."
The existing interactive tool developed by Alamdari's team displays the cyanobacteria concentration across the lakes in Florida. The next phase of work will integrate data on harmful bacteria levels with variables like land use, nutrient loading, water temperature and streamflow. By examining this information, it can successfully predict algae concentration in lakes across Florida.
"We created an integrated online map-viewer platform that shows the areas of interest," Alamdari explained. "It provides valuable insights into potential algal blooms in Florida's watersheds and enables managers and decision makers to implement effective management strategies for those regions."
WHY IT MATTERS
Harmful blue-green algal blooms in freshwater lakes directly affect public health, ecosystem balance and local economies. The plants produce toxins that harm people, disrupt aquatic life, reduce tourism and impact fishing industries. Stopping its spread will save lives.
As these blooms threaten drinking and agricultural water sources, the predictive tool provides a proactive approach for decision makers and communities to manage and prevent potential environmental challenges. The system ensures the safety and well-being of the local environment and communities.
FUTURE WORK
The project is in development and is expected to be completed in January. FDEP will evaluate the final tool for potential implementation.
"We recently presented the tool to FDEP, and their response was overwhelmingly positive," Alamdari said. "They were impressed by the tool's capabilities and potential impact on freshwater lakes."