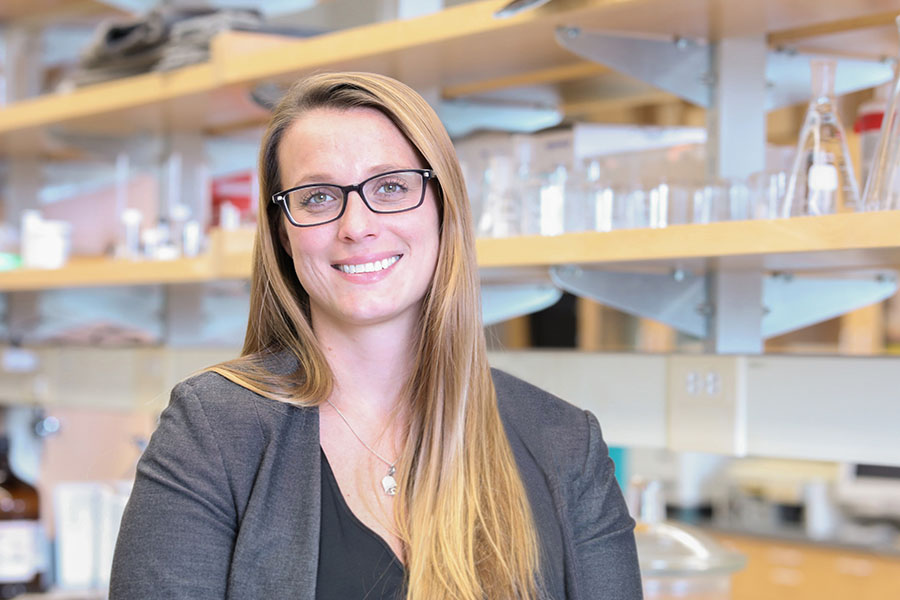 A Florida State University faculty member in the Department of Chemistry and Biochemistry has earned a highly competitive award for her work in improving the efficiency of solar cells as well as innovation in and dedication to education.
Assistant Professor of Chemistry and Biochemistry Lea Nienhaus has been named a 2023 Camille Dreyfus Teacher-Scholar by the Camille and Henry Dreyfus Foundation, which supports the research and teaching careers of talented early career faculty in the chemical sciences.
"It's an honor to be recognized like this, and it's motivating to continue this work alongside my path in teaching," Nienhaus said. "Many talented chemists are nominated annually for this award, and I never expected to be selected. Being able to bring this back to FSU is amazing."
Award recipients must have demonstrated an active commitment to education in addition to their cutting-edge research, signaling the promise of continuing outstanding contributions to both research and education. Awardees earn $100,000 in unrestricted research funds, which are usually used over a five-year period.
Each year, every doctoral granting institution in the country is eligible to nominate one faculty member, and nearly 1,000 scholars have earned teacher-scholar awards since the program's inception in 1970. Several recipients of the Camille Dreyfus Teacher-Scholar Award have gone on to win the Nobel Prize in Chemistry, including Paul L. Modrich, Richard R. Schrock, Robert H. Grubbs, K. Barry Sharpless, Ahmed H. Zewail, Mario J. Molina and Yuan Tseh Lee.
Nienhaus becomes the third-ever recipient of the award from the FSU Department of Chemistry and Biochemistry and the first since 1989. The late Marie Krafft earned the award in 1989, and George Levy earned it in 1976.
This is the third early career award Nienhaus has received within the past six months, and it marks the second recognizing her efforts in mentorship and education. She was recently named a recipient of the Grammaticakis-Neumann Prize from the Swiss Chemical Society, granted to young faculty who have made significant contributions to experimental or theoretical photochemistry, as well as a National Science Foundation Faculty Early Career Development Award, the organization's most prestigious award supporting up-and-coming researchers serving as academic and research-related role models.
"Since joining the department, Lea has embodied the features of a teacher-scholar," said Geoffrey Strouse, professor and chair of the Department of Chemistry and Biochemistry. "She is a natural leader, a skilled student mentor, and an example of the impact women have in STEM fields.  She elevates students' performance in class and in the laboratory through her natural ability to explain complex concepts to non-experts."
Strouse added that one notable example of Nienhaus' teacher-scholar efforts is her work on kitchen spectroscopy – images of everyday kitchen or cooking related tools that glow under illumination.
Nienhaus, who came to FSU in 2018, investigates the interfaces between inorganic and organic semiconductors and pushes the boundaries of optical spectroscopy. The work is applicable in transforming infrared light that currently cannot be used by solar cells into visible light that can be absorbed by standard silicon solar cells, improving their efficiency in turning sunlight into usable energy.
Before joining FSU's faculty, Nienhaus earned her doctorate at the University of Illinois Urbana-Champaign in 2015 and worked as a postdoctoral fellow at the Massachusetts Institute of Technology. She currently teaches freshman chemistry, advanced inorganic chemistry, and graduate physical chemistry courses in addition to pursuing novel research ventures in improving green energy with her lab members. Nienhaus has also been featured by notable scientific journals including Advanced Optical Materials, American Chemical Society Materials Au, and the American Chemical Society Energy Letters.
"It means everything to have my teaching and mentorship recognized like this. Given how small our group is, seeing how far we've come is pretty incredible, and earning this award emphasizes how much my students have done," Nienhaus said. "This award is another way to show them how hard they've worked and how well they've done."
The Camille and Henry Dreyfus Foundation, Inc., was established in 1946 by chemist, inventor, and businessman Camille Dreyfus with the purpose of advancing the science of chemistry, chemical engineering, and related sciences as a means of improving human relations and circumstances throughout the world. Many of the foundation's programs support young faculty accomplished in both research and teaching and recognize exceptional and novel research propelling the field forward.
To learn more about the Department of Chemistry and Biochemistry at FSU and the Nienhaus Lab, visit chem.fsu.edu.