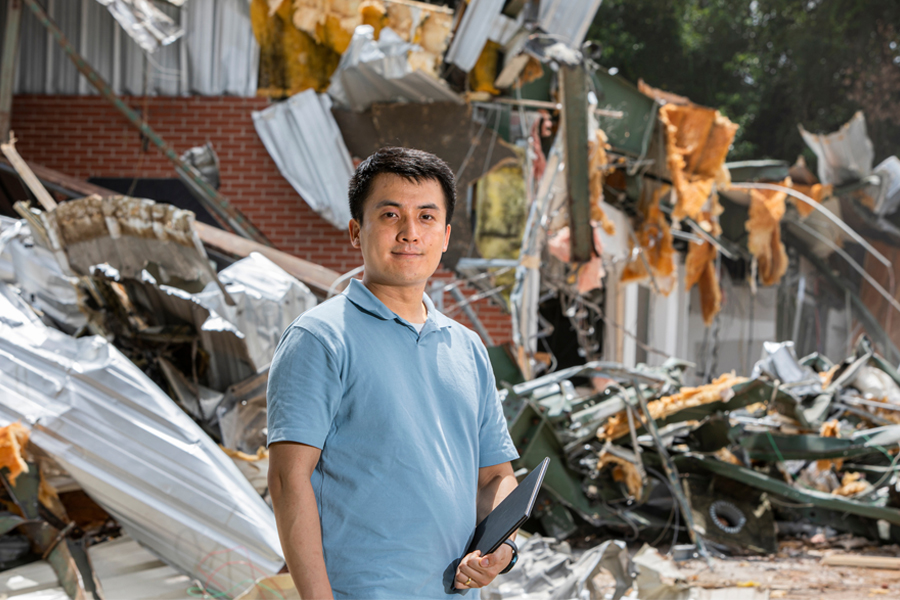 The destructive winds and storm surges of hurricanes are well-known dangers. But these massive storms bring another peril in their aftermath — tons of debris that poses a health risk for residents and creates an additional challenge for recovery.
Fluctuating volumes of debris and illegal dumping complicate that challenge for officials seeking to hasten cleanup efforts and rebuild in the wake of hurricanes.
Juyeong Choi, an assistant professor in the Department of Civil and Environmental Engineering in the FAMU-FSU College of Engineering, will lead a $75,000 National Science Foundation-funded study examining debris collection and illegal dumping in the aftermath of Hurricane Ian, a Category 4 storm that hit southwestern Florida in 2022.
"Affected communities must use their own limited resources for debris removal before reimbursement by FEMA, so it is critical to accurately estimate and keep track of uncollected debris," Choi said. "This problem is complicated with illegal dumping that occurs after a storm."
Various tools exist to estimate the initial amount of debris a hurricane creates, but these approaches don't update estimates as debris collection takes place. More granular information could help officials who need to know where to deploy resources for cleanup and disaster response. Choi and his team hope to develop a better understanding of how to make these estimates over time so that communities can more effectively manage their cleanup efforts.
Choi and other researchers at the Resilient Infrastructure and Disaster Response Center and FSU's Emergency Management and Homeland Security Program analyzed the areas affected by Hurricane Ian with drones and a 3-D LiDAR scanner to record how much debris was illegally dumped over time. Their study examines how the volume of dumped debris changed compared to the amount of debris collected by haulers.
This sort of ephemeral data changes over the course of a few days or weeks. By using aerial imagery and machine learning to quantify the rapidly changing volumes of debris, researchers hope to capture this information before it's lost.
The researchers will also survey residents to understand the social and environmental impact of uncollected debris and different disposal methods.
"The data the team is collecting on illegal dumping will help us better understand how it occurs and inform preventative measures," Choi said. "If we can associate regional social and economic factors with illegal dumping, we can predict this phenomenon, improve logistics planning and reimbursement for this work, and mitigate the impact of illegally dumped debris."