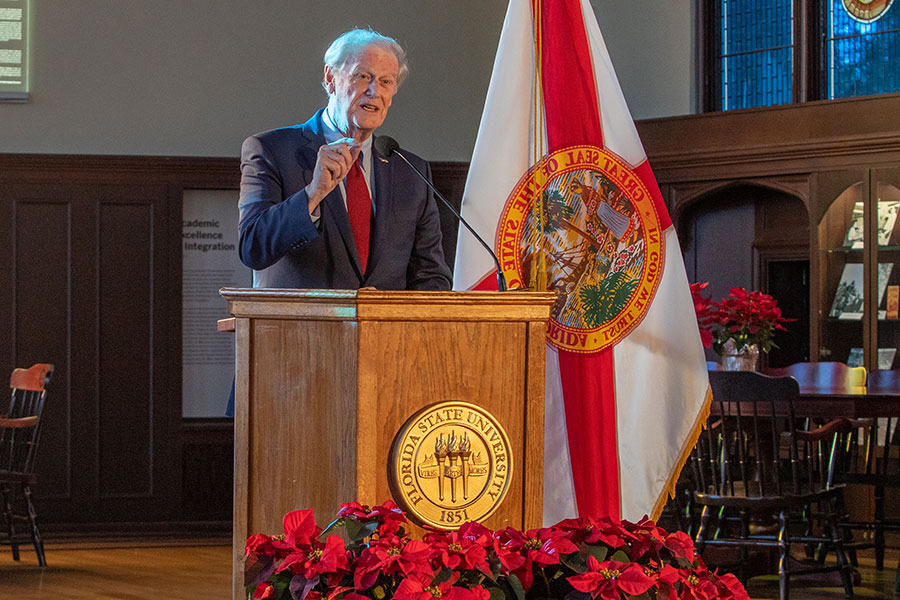 Florida State University President John Thrasher reflected on the university's incredible achievements during his six-year tenure as FSU's 15th president and expressed his excitement for the promise of the future during his final State of the University address.
Thrasher delivered the address to the Faculty Senate Wednesday, Dec. 2, before a small, socially distanced audience at the Heritage Museum in Dodd Hall. The speech also was live-streamed by WFSU.
"When I became president in 2014, we had some pretty audacious goals — to be recognized as a Top 25 public university, raise a billion dollars, expand our research enterprise, and invest in faculty and student success, to name just a few," he said. "I never had any doubt we would achieve them, but I never could have anticipated all of the ups and downs along the way." 
Thrasher acknowledged the many challenges the campus community has overcome during his term, perhaps none greater than the COVID-19 pandemic.  
"This pandemic has reinforced many of the things I already knew about the people of this university — that we are strong, we are tenacious, and we are resilient," he said. "When history looks back on this moment in time, it will see us at our finest." 
He pointed to the faculty's ability to pivot and convert 10,000 classes to remote delivery in just two weeks when the university closed campus in March.  
"Because of you that we have been able to continue to deliver a world-class education to our 43,000 students," Thrasher said. "Of course, we could not have done it without our amazing staff who revised course schedules, cleaned classrooms, provided technical support, launched a public health campaign, offered student services, and so much more." 
Since March, the university has implemented COVID-19 testing and contact assessment programs, leaning on the expertise from faculty across campus.  
Whether it was developing a new testing procedure to avoid the shortage of testing supplies or using 3D printers to produce PPE, FSU faculty have made extraordinary contributions to the university's response and understanding of the coronavirus, Thrasher said. 
In May, the murder of George Floyd in Minneapolis prompted the nation to confront racial inequality and systemic racism. Weeks later, Thrasher established the President's Task Force on Anti-racism, Equity and Inclusion to identify racial and ethnic disparities on campus and to implement a range of initiatives, such as diversity and inclusivity training and enhanced recruitment and retention of students, faculty and staff from under-represented groups.  
Since August, the task force has worked to formulate recommendations that they will submit to Thrasher for consideration as soon as next week.  
"We know we have a long way to go to achieve true racial equality and justice — as a nation, as a community, as a campus," Thrasher said. "We must continue to listen, learn and evolve — and take action."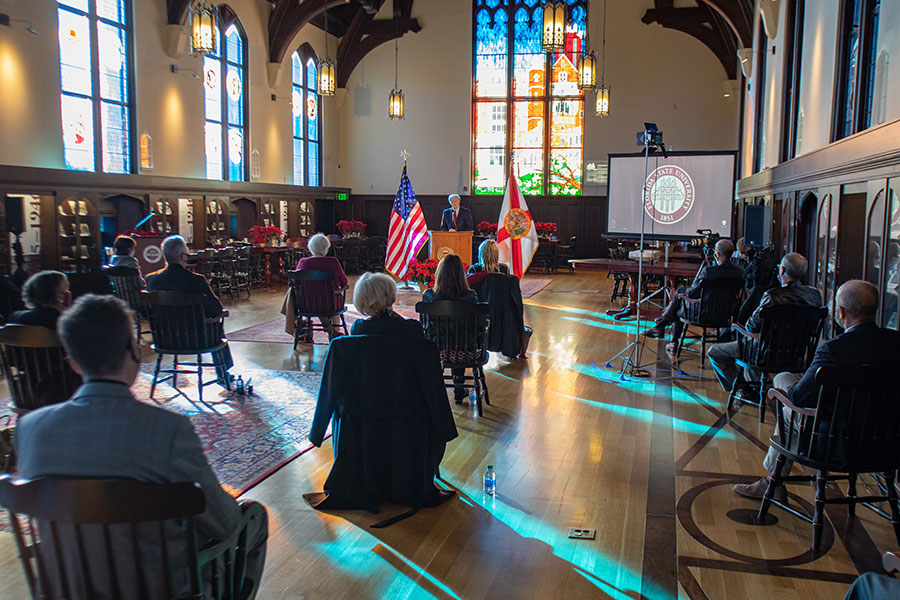 The university also experienced its share of successes in 2020. Most notably, FSU was ranked one of the nation's Top 20 universities for the second consecutive year.  
"Our incredible rise in the rankings is due to a lot of hard work and forward thinking by many people across the university who developed a strategic plan that reflects our values and has guided our way," Thrasher said. 
FSU also posted records for freshman retention and four-year graduation rates, brought in an all-time high of $250 million in research funding and enrolled a record number of graduate students.   
Thrasher recounted the progress the university has made on its strategic goals over the past six years, as well as the construction of new buildings that have changed the face of campus.   
"All of the successes of the past six years point to a bright future," Thrasher said. "With the proper support and funding from the Florida Legislature, a Top 15 ranking is in our sights, and the Top 10 is a long-range goal." 
While acknowledging the impact that COVID-19 has had on state revenues, Thrasher said the university is ready to make its case in the 2021 Legislative Session, which begins in March. FSU will request funding that will allow the university to continue to improve its faculty-student ratio and enrich Florida's talent pipeline. In addition, FSU is requesting support to advance the FAMU-FSU College of Engineering as well as funding for the new College of Business Building and the Interdisciplinary Research and Commercialization Building. 
"There are many challenges ahead. But as we look back on our past, we can see that every success we have had is a result of obstacles we have overcome," he said. 
Thrasher closed by telling the Faculty Senate that he believed the state of the university is stronger than it has ever been.  
"I can't tell you exactly what this university will look like in the next five to 10 years —our next president and his or her leadership team will guide the way forward," he said. "But I know — I know — the work we have done together over the past six years has established a strong foundation on which to build. We are fulfilling our promise as one of the very best public universities in America. And I can't wait to see where we will go next."