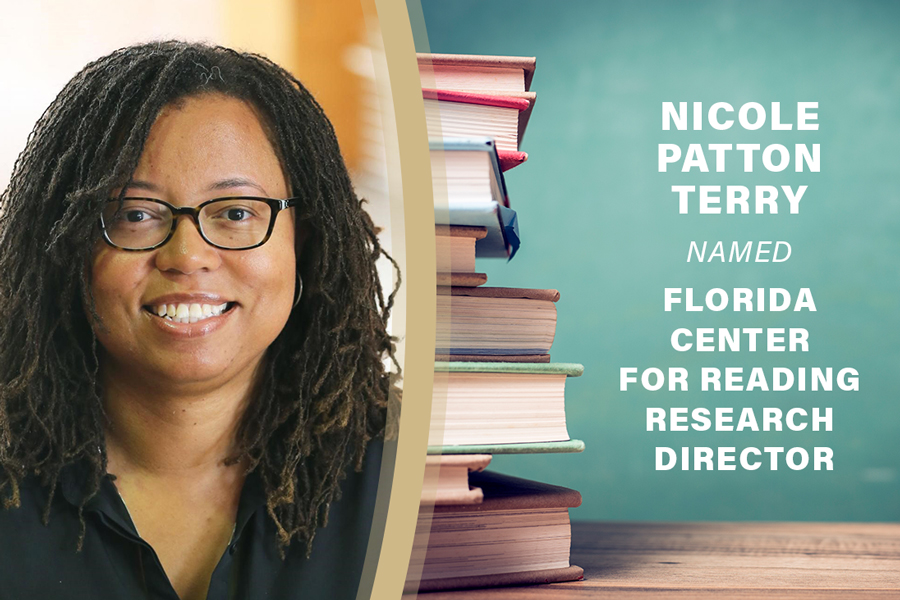 Florida State University has appointed FSU Professor of Education Nicole Patton Terry as director of the Florida Center for Reading Research (FCRR), a multidisciplinary research center that investigates all aspects of reading and reading-related skills across the lifespan.
Patton Terry is the Olive & Manuel Bordas Professor of Education within the School of Teacher Education. As the director, Patton Terry will guide the center through the implementation of a recently adopted five-year strategic plan focused on maximizing FCRR's impact on the field through interdisciplinary research, new innovations and expanded dissemination activities.
"We are so pleased to have someone of Dr. Patton Terry's expertise and vision moving into the director's role," said Vice President for Research Gary K. Ostrander. "We know she will achieve great success in this new position."
Arriving at FCRR from Georgia State University in 2018, Patton Terry established and directs The Village at FCRR — a unit responsible for creating and maintaining research-practice partnerships with a diverse cross-section of community stakeholders. Her work, which focuses on young children who struggle to acquire language and literacy skills, has been supported by organizations including the Spencer Foundation, the Eunice Kennedy Shriver National Institute of Child Health and Human Development, the Institute of Education Sciences and the Annie E. Casey Foundation.
This past summer, Patton Terry led a center-wide effort to stem learning loss in the local community caused by the COVID-19 pandemic. The project, PLEASE READ, provided books, activities, resources and supports to keep families engaged in learning over the summer. As part of the project, 600 bookbags filled with school supplies, books and evidence-informed activities were distributed among rising first and second graders.
Faculty and students also are conducting research to determine if these efforts did indeed reduce learning loss.
"Projects like PLEASE READ really highlight FCRR's longstanding commitment to research that responds directly to the needs of children, families, schools and communities," Patton Terry said. "There really is no place like it in the world. It's a tremendous responsibility, and I am delighted to work alongside my colleagues as we continue building upon that legacy in new and innovative ways."
In addition to community-engaged research and partnerships, Patton Terry is equally committed to student development. Along with faculty across FCRR, she directs two new doctoral training grants: the Florida Interdisciplinary Research Fellows in Education Sciences (FIREFLIES) and Preparing the Next Generation of Reading Disabilities and Dyslexia Researchers (R2D2). Both programs seek to prepare and equip the scholars with the research, teaching, leadership, entrepreneurial and professional skills necessary to directly tackle challenges in the field.
Patton Terry begins her term on Oct. 1. She succeeds Professor of Psychology Don Compton, who will return his focus to teaching and research after serving as the center's director for five years.
Established in 2002, FCRR is currently home to 10 tenured and tenure-track faculty members holding joint appointments with the College of Arts & Sciences, College of Education and College of Social Work. In addition, FCRR has affiliate faculty in the College of Social Work, School of Teacher Education and School of Communication Science and Disorders. Through rigorous and robust research, innovation, and engagement, FCRR advances the science of reading to improve learning and achievement from birth through adulthood.