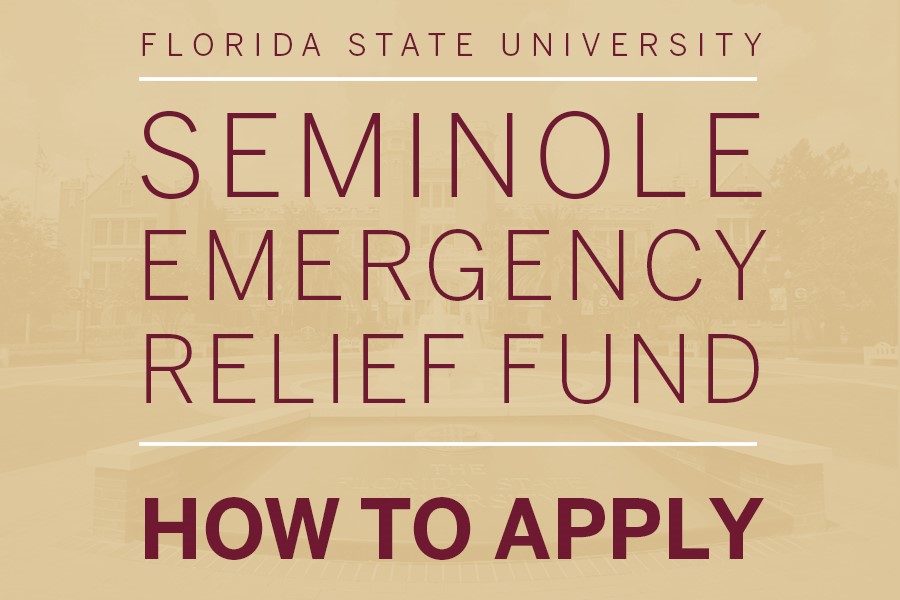 In response to the significant and historic impact of Hurricane Michael, FSU created the "Seminole Emergency Relief" program as an emergency fund to provide limited assistance (up to $1,000 per calendar year) to FSU students who experienced a temporary financial hardship due to the hurricane and its aftermath.
Seminole Emergency Relief funds are intended to be a temporary life-preserver, not an income supplement or an alternative to insurance, FEMA or other types of public aid. Funds serve as a grant, not a loan requiring repayment. Under most circumstances, awards through Seminole Emergency Relief will be taxed as income.
Students experiencing an unforeseen, temporary financial hardship may apply for a grant through Seminole Emergency Relief at any time.  Here's how:
Please read the Applicant FAQ. These should address most of the questions you may have.
Complete the application form for aid, available here.
Attach all relevant documentation illustrating your unexpected hardship. This might include an overdue utility bill showing a cut-off date, photographs of damage, estimates for emergency repair, unexpected medical bills (redacting any medical information or medical details) or insurance documents identifying your deductible.
Submit your application and all supporting documents via email to SeminoleEmergencyStudentRelief@fsu.edu or mail your application materials to:
FSU Dean of Students
Attention: Seminole Emergency Relief
282 Champions Way
Tallahassee, FL 32306-2440
---

Seminole Emergency Relief is a way for FSU to offer support to students who are experiencing a temporary hardship due to a significant life event, such as a sudden illness, family crisis or natural disaster. Seminole Emergency Relief is completely dependent on donations, and awards are contingent on the availability of funding at the time of application.
Florida State University continuously accepts donations to the Seminole Emergency Relief program in order to assist students experiencing emergent and unexpected financial hardships. Please donate today.