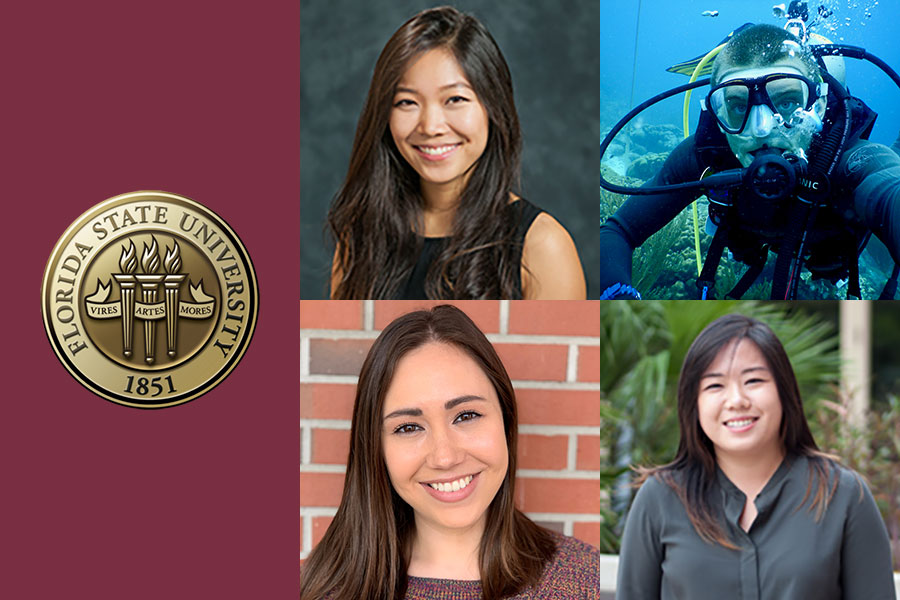 Four Florida State students have received a prestigious and highly competitive fellowship from the National Science Foundation to help fund their doctoral work.
The fellowship program recognizes exceptional graduate students in NSF-supported science, technology, engineering and mathematics disciplines who are pursuing research-based master's and doctoral degrees.
Fellows receive an annual stipend of $34,000 over three years, which allows them to conduct research at any accredited U.S. institution of graduate education. They also receive a $12,000 allowance for tuition and fees, opportunities for international research and professional development.
"Florida State University has extraordinary graduate students who are the next generation of faculty and industry researchers," said Adrienne Stephenson, assistant dean of the Graduate School and director of the Office of Graduate Fellowships and Awards. "Prestigious national fellowships such as the NSF's Graduate Research Fellowship support early career development and allow these students to build their academic and professional portfolios. We are thrilled for our students who have won this award and are excited to see where it takes them."
FSU's winners are:
Eileen Kyoung Chun
Chun is a doctoral student in the Department of Psychology. She is focusing on neuroscience, studying the neurobiology of social behavior. She earned her undergraduate degree from Cornell University and is a native of Fairfield, Connecticut.
Ethan Cissell
Cissell is a doctoral student at FSU studying microbiology under Assistant Professor Sophie McCoy. The Gurley, Alabama native is focused on environmental microbiology and is researching how microbial interactions drive the different processes on the coral reefs of Bonaire in the southern Caribbean. Cissell received his bachelor's degree from University of Alabama.
Lyndsey Chong
Chong is a second-year doctoral student in clinical psychology. The Houston-born Chong received her bachelor's degree from University of Texas-Austin. Chong said she hopes to ultimately work in the field of psychophysiology.
Victoria Posey
Posey, a Jacksonville native, is a newly minted graduate of Florida State with a degree in Chemistry and will pursue graduate studies in material chemistry at Columbia University, starting this summer. Posey worked in the lab of Assistant Professor Kenneth Hanson as an undergraduate and plans to pursue material chemistry in graduate school, noting the interdisciplinary nature of the field sparked her interest.
In addition to these four winners, three former FSU students — Penelope Rachelle Ales, Sierra Gillman and Chelsea Massaro — received the award. Three current FSU students and one former also received honorable mentions. They are Ashley Arcidiacono, David Balbuena, Jennifer Rogers and Gunnar Nystrom.