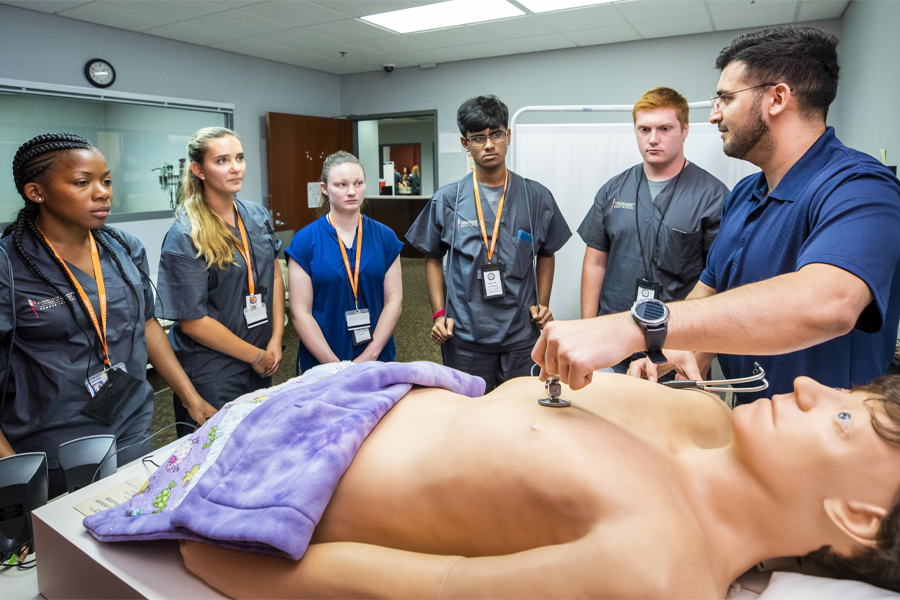 When Desiree Jonas-Strickland was in middle school, Florida State University's SSTRIDE program helped her see her future in a health care career.
That program — Science Students Together Reaching Instructional Diversity and Excellence — has taken her from her hometown of Madison, Florida to the Centers for Disease Control and Prevention in Atlanta, where she works as a health policy analyst.
She was one of almost 150 SSTRIDE alumni gathered for a virtual reunion via Zoom on Oct. 14, 2021 to celebrate the program's successes — and their own — since it began in 1994 to address unmet community health care needs.
"I would not have had a career in health care if it wasn't for SSTRIDE and the support and assistance I've had over the years," said Desiree Jonas-Strickland, who dual-majored as an FSU undergraduate student in family and child science and exercise science before earning master's and doctoral degrees in public health at Florida A&M University.
Jonas-Strickland was in seventh grade when she got started in SSTRIDE and remained involved all the way through her undergraduate studies. Seeing African Americans in prominent health care roles expanded her horizons.
"I remember thinking, 'This person looks like me — and they're doing it,'" she said.
SSTRIDE works with teachers to identify students with an interest in math or science, then it provides additional in-school instruction in advanced science classes, tutoring, standardized test preparation, professional development, life experiences and mentoring to ensure the students have the skills they need to be competitive as a medical school applicant or to succeed in other health care careers. That includes making sure they take the right classes to get into college, where USSTRIDE (the university-level equivalent) continues the mission. An important aspect is encouraging students while they navigate their educational journeys.
Jackie Hanners (M.D., FSU College of Medicine Class of 2021), an OB/GYN in her first year as a medical resident at LSU Health in Shreveport, La., describes herself as a "pipeline baby" who grew up in rural Crestview. She credits her mentors for convincing her she could be a doctor by "constantly reminding me that I am good enough."
It was a familiar refrain throughout the evening's program, which was peppered with phrases including "believed in me," "made me believe in myself" and "I never dreamed I could be a doctor before SSTRIDE."
Thesla Berne-Anderson, the College of Medicine's executive director of outreach, summed it up nicely: "This is a place where dreams come true."
'We can do this'
Berne-Anderson, SSTRIDE's founding director, was hired in 1993 as the outreach coordinator for the Program in Medical Sciences (PIMS), a collaboration among FSU, FAMU and the University of Florida College of Medicine. Under that program, FSU and FAMU students who planned to become physicians took their first-year courses at FSU and completed their training at UF.
Myra Hurt, director of PIMS at that time, knew that it was critical to increase the number of women and people of color in the medical profession, which in the early 1990s was dominated by white men.
"My personal goal was to diversify the admissions pool," Hurt said in a documentary shown during the virtual celebration. "I knew deep inside me that we could do something about this and give them [women, minorities and others from rural areas] the proficiency they needed. We're teachers. We know how to do this. This is not rocket science. We can do this. Why hasn't somebody done this before?"
When Hurt hired Berne-Anderson, she charged her with finding a solution to the gap in minority application, acceptance and successful completion of PIMS.
"My game plan was to create a program that would address the challenges that minority students face, and that would provide opportunities that would engage, inspire and stimulate their interest toward science and medicine," Berne-Anderson said.
With her background teaching middle school, she knew where to start. After researching what other universities were doing, she decided on a more holistic, comprehensive approach that focused on early intervention and stakeholder buy-in.
The numbers speak for themselves:
Between 1994 and 2021, 2,505 middle school and high school students participated in SSTRIDE. Of those, 65% were women, 41% were Black, 33% were white and the other 26% were a combination of Hispanic/Latino, Asian and Native American. Of the 1,134 who could be tracked, all but 4% went to college or joined the military, or both.
Of 352 college graduates the evaluation team tracked, almost 24% went to medical school, 19% went to a health professional school or graduate school in a STEM field, and 5% went to graduate school in a non-STEM field.
The program was so successful that when the Legislature voted in 2000 to create FSU's College of Medicine, SSTRIDE was written into the law as a pipeline to help achieve the mission of helping medically underserved communities in Florida, particularly older patients, minorities and residents of rural areas.
Extending the pipeline
Other outreach programs were created to continue the pipeline support, such as the Summer Institute, Minority Association of Pre-Med Students (MAPS), USSTRIDE and the Bridge Program. They, too, have produced inspiring success stories.
For example, the Bridge Program, which offers a year of intensive training to prepare for medical school admission, has had 206 participants since 2001. Three-quarters have been female and four-fifths have been ethnic minorities; 91% successfully completed the program and went on to medical school.
As for outcomes, Bridge has been highly successful in achieving its purpose to produce more physicians who will work in areas of need: 75.5% of FSU alumni physicians who started in Bridge are now practicing in a primary-care specialty (family medicine, internal medicine, pediatrics and OB-GYN).
Helen Livingston, who served as director of admissions for PIMS, developed the Bridge Program after Hurt gave her a brochure for a similar program and said, "We want one of these."
"I developed that, with Ms. Anderson's assistance, so we had a 'bridge' program for students who were not quite ready for medical school but with some assistance, could get ready in a year's time," Livingston said. She ultimately molded the Bridge Program into a one-year master's degree program.
Rashad Sullivan (M.D., '13), an orthopedic surgeon and the celebration's keynote speaker, is a Bridge Program success story. The third of nine children, his early years were marked by poverty and dealing with family members' addiction and incarceration.
He credits "God's grace and the open hearts of a lot of people."
He even met his future wife, Natalie Alphonse (now Dr. Natalie A. Sullivan), at a MAPS meeting. The FSU undergraduate alumna went on to medical school at Wake Forest University. She and her husband share four children. They have never experienced poverty or the effects of addiction, he said; they all want to be doctors.
"We are here tonight to celebrate one of the most significant contributions to my success story," he said. "SSTRIDE changed my life."