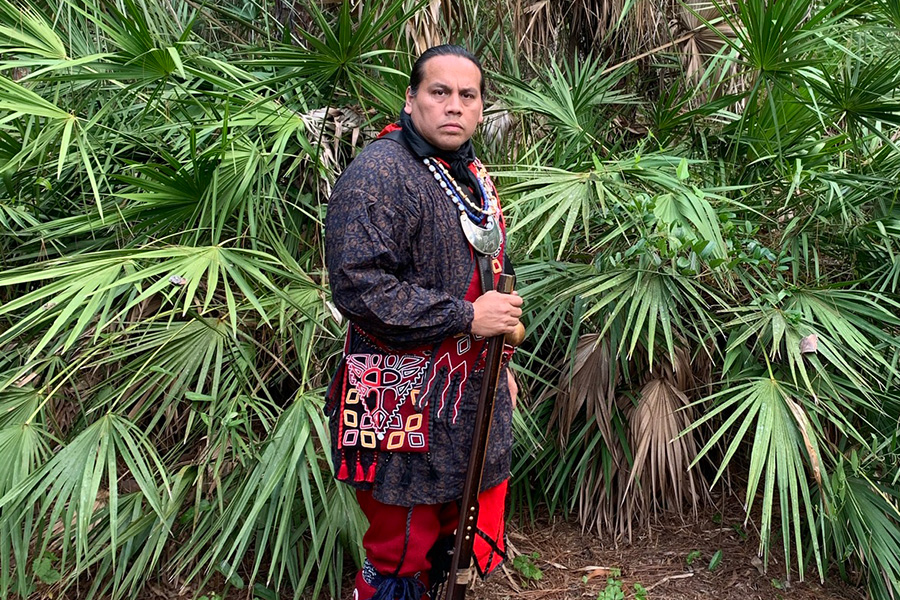 Florida State University's Center for Music of the Americas will present "Seminole Legends and Songs" at 8 p.m. Thursday, Sept. 1, at Blue Tavern in Tallahassee's Midtown.
"Seminole Legends and Songs," the first concert of the American Musicological Society's (AMS) Many Musics of America series, will feature Seminole artist Brian Zepeda and explore the musical traditions and narratives of the Seminole Tribe of Florida.
Zepeda will present traditional stories and songs that narrate his people's rich history and vibrant present.
"As a Seminole Tribal Council liaison, member of the Florida Folklife Council and featured performer at the Florida Folklife Festival, Zepeda has long been a major force in public-facing music and folklore projects here in Florida," said Panayotis League, director of the Center for Music of the Americas (CMA). "We're honored to welcome him to FSU."
Zepeda calls himself "a traditional Seminole arts teacher and student" who aims to "share as much as I can of my indigenous culture while protecting its essential core."
He will include some of his world-renowned beadwork at Thursday's event.
"Zepeda brings an enriching program that calls upon his traditional Seminole tribal roots and their expression in song and word," said Gregory Jones, associate dean of the College of Music. "All should come and learn more about Seminole traditions that inspire so much in our university."
The event is the result of a collaboration between the CMA and the AMS's Southern chapter. Members of the Southern chapter include scholars, professors, amateurs and students, including those from FSU.
The CMA promotes the scholarship, performance and dissemination of music broadly understood throughout the entirety of the American Hemisphere.
The AMS event series is made possible in part by the National Writing Project's "Building a More Perfect Union" grant program. The program is funded by the National Endowment for the Humanities, which provides grants to humanities organizations to help them recover from operational disruptions brought on by the COVID-19 pandemic.
"The AMS concert series focuses on different musical traditions from around the United States during various historical eras," said Sarah Eyerly, director of the Early Music Program in the FSU College of Music and coordinator of musicology. "The series ultimately explores our country's deep and diverse history leading up to the 250th anniversary, in 2026, of our country's founding." For more information, visit manymusics.amsmusicology.org.