Florida State University College of Motion Picture Arts student Jazleana Jones recently won one of The American Society of Cinematographers' (ASC) prestigious Student Heritage Awards for her work on the documentary "King, Charles."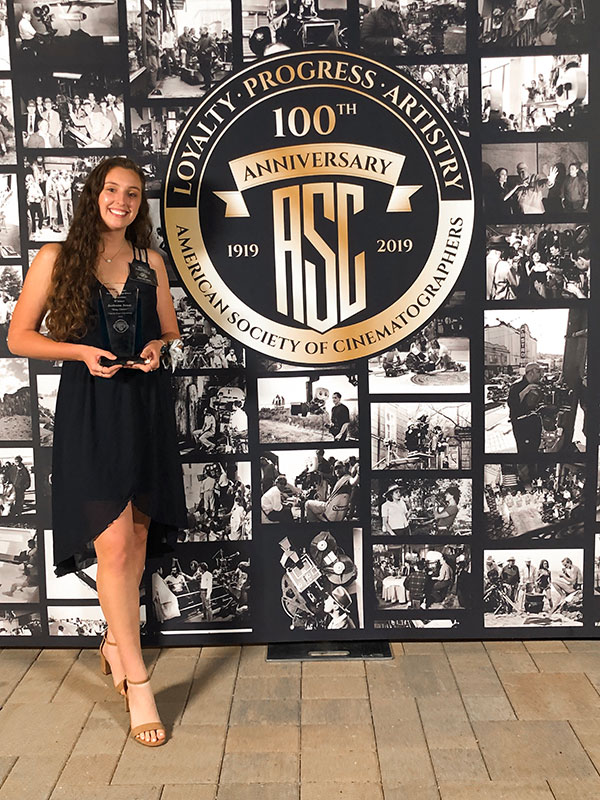 Jones, a junior from Clermont, Florida, received the Haskell Wexler Student Documentary Award, one of three Student Heritage Awards presented this year, during a ceremony Saturday, Oct. 12, at the ASC Clubhouse in Hollywood. Her win is the first for Florida State since 2009.
"King, Charles" recounts the life of Charles "Chuck" Monroe King, an artist and warrior, and the written legacy he has left for his still grieving family and newborn son. Throughout the documentary, both King's mother and sister reflect on his life as a gifted artist, loving father, and dedicated soldier. Through their grief, the film discovers the various sides of King, whose last letters became words to live by for an entire family.
Jones served as director of photography for the documentary, which she said allowed her to grow as both a storyteller and a filmmaker. She hopes to be a cinematographer one day and have the opportunity to join the ASC, which is celebrating its 100th anniversary this year.
"I'm grateful the directors put their full trust in me to capture and bring their vision to life, and I was speechless and in complete shock when winning this award," Jones said. "It has been such an honor and a dream come true to be recognized by the ASC. This success would not be possible without the love and support from FSU's College of Motion Picture Arts."
FSU film students Will O'Neal and Skylar Theis co-directed the film, while Kate Lopez served as the sound mixer.  FSU also had another finalist for the ASC Student Heritage Awards this year, "Existent," shot by Nathan Cohen and directed by Gabriel Valbuena.