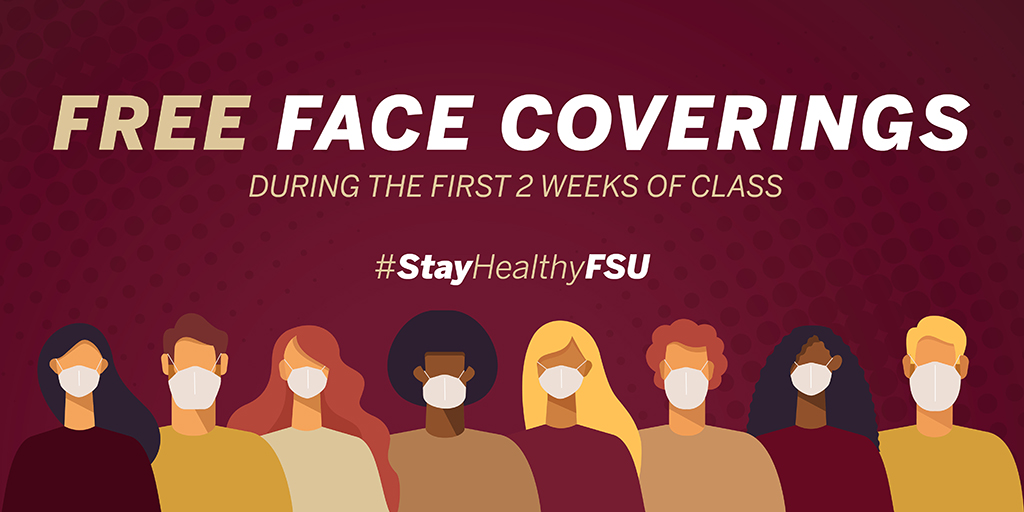 As Florida State University welcomes its students, faculty and staff back to campus this fall, health and safety continue to be the top priority.
One of the ways the university community can help mitigate the spread of COVID-19 is wearing a face covering, which is required when visiting all indoor facilities on campus.
"Wearing a face covering can help us protect one another," said Amy Hecht, vice president for Student Affairs. "It is up to each of us to do our part. I know this may be difficult, and I also know Florida State University's community can do hard things. We are in this together!"
To ensure students who need a face covering have access to one, the Division of Student Affairs is distributing FREE face coverings around campus.
During the first two weeks of classes, face coverings will be distributed from 10 a.m. to 4 p.m. Monday through Friday on Landis Green. Face coverings also will be distributed from 9 a.m. to 12 p.m. Monday, Aug. 24, and Tuesday, Aug. 25, on Langford Green. Face coverings also are available at FSU's COVID-19 test collection site at the Donald L. Tucker Center.
Employees, including faculty, staff, graduate students and student workers, have been or will be supplied with cloth face coverings. Supervisors will organize distribution to employees.
Individuals will not be permitted to attend face-to-face classes, take part in other events or access services indoors without the proper face coverings.
For more information, visit FSU's Return to Student Life Guide.
---