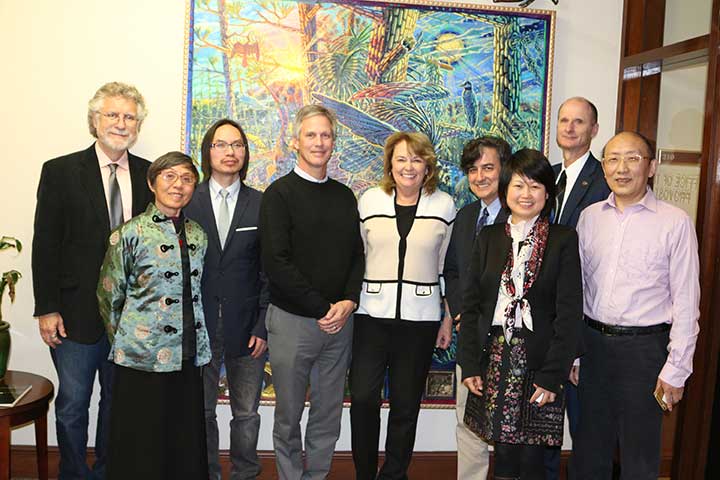 Florida State University recently met with a delegation from East China University of Science and Technology in an effort to forge a relationship for future research collaboration and student exchanges.
The partnership was initiated by FSU College of Social Work Dean Jim Clark and Professor Amy Ai, who have extensive experience with Chinese scholars in health, trauma and social work.
The relationship grew after Clark and a coalition of faculty including Ai as well as social work professors Neil Abell, Shairi Turner and Bruce Thyer cohosted an international symposium with East China University of Science and Technology (ECUST) entitled, "Disaster, Crisis Management, and Trauma." The Shanghai-based symposium was designed to bring together experts in social work, social policy and emergency management.
At the start of 2018, national leaders in social work from ECUST joined FSU faculty again at the Society for Social Work and Research's annual conference in Washington, D.C. to meet with other U.S. leaders in social work. The goal was to engage in cultural exchange on social work research and education. Those encounters solidified Clark's desire to form a long-term partnership between the two institutions.
"There is much to be gained from this partnership," Clark said. "Connecting faculty and students from both campuses will help us better understand the global components of the field and how different cultures respond to the same social problems."
ECUST was founded in 1952, then as the East China Institute of Chemical Technology. The institution, located in southwest Shanghai, had a formal name change in 1993. It currently has 15 academic schools including a School of Pharmacy, School of Information Science and Engineering, and International School of Social Work.
During their visit, the ECUST delegation also had an opportunity to tour the campus, meet with several deans and interact with students on how potential exchange programs could operate in the future.