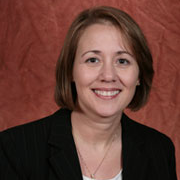 Professor of Family Medicine & Rural Health, Director of Clinical Programs
Dr. Harrison teaches in all four years of medical education and serves as the Director of Clinical Programs. In her role as Education Director for Family Medicine, she develops, implements and evaluates the family medicine curriculum during the clinical years. This includes the required Family Medicine Clerkship during year 3 and the Family Medicine Sub-Internship in year 4. During the first two years of medical education, Dr. Harrison works with students in the Clinical Learning Center, serves as a small group facilitator and leads large group lectures.
Dr. Harrison's research interests include abuse and violence as it relates to healthcare. She has published manuscripts on human trafficking and intimate partner violence. Other research interests include women's health, women in medicine and medical education.