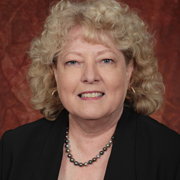 Professor and Senior Associate Dean for Interdisciplinary Medical Sciences
Hurt, an expert in medical school admissions, has been involved in medical education for more than 25 years, first at the University of Tennessee and, later, the Baylor College of Medicine. She joined Florida State University's Program in Medical Sciences faculty in 1987 and is the founding faculty member of the university's College of Medicine. She served as the college's associate dean for student affairs, admissions and outreach from 2001 to 2004. She currently serves as senior associate dean for research and graduate programs.
Hurt studies the regulation of mammalian gene expression, specifically those events controlling transcription initiation in general and in the cell division cycle in particular. Her laboratory is examining the cellular signals that control cell growth and proliferation. These cellular events occur at the point of the cell cycle where the cell makes initial decisions leading to proliferation or nonproliferation, contributing to the understanding of the molecular basis of cancer.