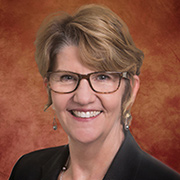 Director, Area Health Education Center (AHEC) Program
Andree Aubrey is the director of the Area Health Education Center at the Florida State University College of Medicine. The FSU AHEC has a focus on implementing tobacco-free policies and cessation services in behavioral health organizations throughout Florida. Ms. Aubrey directs FSU's nationally accredited Tobacco Treatment Specialist foundation course for health professionals which is a collaborative effort of AHEC faculty and staff.
A licensed clinical social worker, Ms. Aubrey has spent her entire career working in health-related areas with underserved communities and populations. Her research focuses include health literacy and tobacco, especially brief interventions for tobacco users who are not ready or confident about quitting.